As we hit the quarter mark of the NBA season, it's time to take a look at the early MVP race. Will LeBron run away with his third straight award and fifth overall? Or will this be the season another contender rises up? Our panel of experts talks it out.
1. Who is the Eastern Conference MVP so far?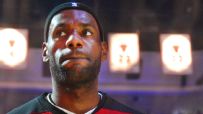 Curtis Harris, Hardwood Paroxysm: LeBron James. He's still the most talented player in the NBA, so he gets my vote. Like Wilt in '67, Bird in '86 and MJ in '92, his greatness has become so routine we just shrug off his domination as commonplace.
James Herbert, Hardwood Paroxysm: LeBron James. The man is close to averaging 60 percent from the field, 45 percent from the 3-point line and 85 percent on free throws. He's the best player on the planet, and he somehow keeps getting smarter and better.
Aaron McGuire, Gothic Ginobili: Paul George. The Pacers' defense is what gives them their heft, and George is their fulcrum at the wing. Unlike his main competitor for the first quarter "Eastern MVP" honors, George brings it on that end every night, for every possession. And he still finds time to put up superstar offensive numbers? Reggie Miller, eat your heart out.
Ethan Sherwood Strauss, TrueHoop: LeBron James for LeBron James reasons. Sure, we'll mull Paul George for a minute, but so long as LeBron's a better version of Paul George, I don't see any reason for someone else to win this. James is more efficient on offense and he remains his team's most important defensive player. George has been spectacular to be sure. He's shooting like Stephen Curry while defending like LeBron. That's a special combination, but it isn't enough to make him better than the best player since Michael Jordan.
David Thorpe, ESPN Insider: I understand the arguments to the contrary, but LeBron James has played better than anyone in the East overall, and his team is elite. That's all that matters to me. After three straight Finals appearances, no one playing has a better understanding of how long the season is, suggesting that he has more to offer as we near spring. Yikes.
---
2. Who is the Western Conference MVP so far?
Harris: Kevin Durant. His scoring efficiency has dipped a little this season, but Durant's growth as a playmaker has more than compensated for that.
Herbert: Kevin Durant. It's just insane how efficient he is considering how much he has to do in the Thunder's offense. Durant is leading the league in scoring and is easily the best in the league at getting to the free throw line. He takes more free throws than Dwight Howard, and teams intentionally foul Howard!
McGuire: LaMarcus Aldridge. Chris Paul and Kevin Durant are both "better" players. But neither has meant more than Portland's superstar big man. Without Aldridge's Nowitzki-esque dominance over the midrange and defensive place-setting for Terry Stotts' smart schemes, there's absolutely no way the Blazers would be sitting in the catbird seat. Phenomenal season to date.
Strauss: Kevin Durant. He keeps shooting beautifully, drawing a ridiculous amount of fouls and crushing opponents in transition. Continued brilliance doesn't make for a compelling story, but Durant's actual play is compelling each and every game.
Thorpe: This one is just as easy. Kevin Durant is the West's best player and he plays on one of the top few teams. I don't understand any other criteria to consider, at least in terms of fairness. He helped OKC survive in a month when it could have faltered.
---
3. Who is the NBA MVP so far?
Harris: LeBron James. He's averaging 25.4 points a game on 59.4 percent shooting. If he bumps that up just a bit to 60 percent, he'd join Kevin McHale as the only player to ever reach those plateaus. Just an example of that ho-hum greatness we've grown accustomed to.
Herbert: James. It'll be a shame if Durant never wins an MVP simply because he plays in the same era as James. Durant has been an MVP-caliber player for a few seasons now, but James is still a cut above.
McGuire: Again, LaMarcus Aldridge. I'll be surprised if he gets any votes at all when it comes time, but the Blazers have played incredibly well against a tougher-than-advertised schedule. Aldridge is on pace to post one of his best seasons ever and seems slightly more integral to me.
Strauss: LeBron James. I don't want to be the media member who votes for Charles Barkley because he's bored of Michael Jordan's greatness.
Thorpe: There are some great players in the NBA having spectacular seasons. But if anyone asked you if LeBron would have a career year in field goal percentage, 3-point percentage and free throw percentage in the same season, is there any way he wouldn't be the MVP? You'd have to say no.
---
4. Who is your dark-horse candidate for MVP?
Harris: Portland did a magnificent job in the offseason acquiring new talent, but LaMarcus Aldridge has been the beastly center of the Blazers' hot start. Naturally, he'll be the one garnering some dark-horse MVP buzz.
Herbert: Stephen Curry. The banged-up Warriors are ninth in the West right now, so you won't hear Curry's name as an MVP candidate. He has been spectacular, though. As well as averaging 23.6 points per game, he's averaging 8.9 assists a contest, good for third in the league. Remember when people doubted his ability to play point guard?
McGuire: Dirk Nowitzki's MVP days are theoretically long gone, but he's quietly having a fantastic renaissance season in Dallas. The Mavericks have been one of the early season's quiet surprises, posting one of the league's deadliest offenses and staying afloat in a loaded West. If they caught fire near the end of the season to storm into a top-four seed, Dirk's superb season would deserve MVP consideration.
Strauss: If the Warriors ever get it together, Stephen Curry could be a factor. Opponents are double-teaming him above the arc and he's responded by dishing two assists per game more than last season. I can't foresee a scenario in which Curry will deserve an MVP award this season, but voters have a weakness for exciting point guards. He needs his teammates to help him win some games, though.
Thorpe: Kevin Love is on a team that will not be at an elite level, unless it acquires an active center who can protect the rim (though Nikola Pekovic is an amazing low-post player on offense). But if the Timberwolves did, Love has the potential to grow into a legit candidate. A little better shot selection, a shot-blocker to line up next to him and some better scoring from Ricky Rubio would help matters.
---
5. Who do you think will win the NBA MVP award?
Harris: I'll say Paul George. Exciting young player who propels his club to the league's best record and voters swoon. It happened just a couple of years ago with Derrick Rose, so let's do it again.
Herbert: Paul George. He should probably win Most Improved Player again, too. George has taken his game to another level this season, nearing Durant's usage and efficiency while guarding the other team's best player just about every night. If the Pacers finish with the league's best record and George keeps averaging 25 points a night, he'll get the award.
McGuire: LeBron James. The popular consensus has swung from "It's nice for other people to win MVPs," all the way to "any non-LeBron MVP is a travesty of justice." At the end of the day, there's virtually nobody watching the league who doesn't think LeBron is the league's finest player. And that's probably going to translate to a third straight trophy.
Strauss: My prediction is Kevin Durant, and I'm sticking with it. The Heat seem fairly content to coast toward a second seed, and Oklahoma City is battling nightly. If the Thunder finish with the best record, KD's case is ready-made. I'm guessing this is the season where bored voters take the next-best guy.
Thorpe: There is no one else to consider if LeBron maintains this level of play and Miami stays very relevant. If the Heat fall despite his production, then perhaps Paul George or Chris Paul can earn some votes. But the reality is that LeBron makes the argument of "who's better in his prime, MJ or LBJ" more interesting each season. That question was once laughable, now there is some fair debate, though MJ wins. But for how much longer?


ESPN.com and the TrueHoop Network
David Thorpe writes for ESPN Insider. Curtis Harris, James Herbert, Aaron McGuire and Ethan Sherwood Strauss write for TrueHoop.
• Follow the NBA on ESPN on Twitter | On Facebook | On Google+