On Thursday, we handed out awards for the top rookies and most valuable players of the first trimester. Today we honor the coaches, defenders and teams that have impressed us most during the first-third of the season. Here are six writers' takes:
---
1. Who is the Most Improved Player of the Year so far?
Andrew Han, Clipper Blog: Arron Afflalo, who has a rare attribute of improving every season. For his seventh rendition, Afflalo is getting to the line more (1.1 attempts more than his career high), taking more 3-pointers (1.5 more attempts) and shooting those 3s at a career-high clip (43.7 percent). This is in addition to career-highs in rebounds and assists. And it's not simply a case of getting more minutes; Afflalo has been getting close to 30 minutes or more the previous four seasons. He is improvement incarnate.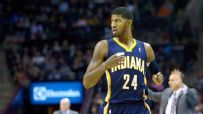 James Herbert, Hardwood Paroxysm: Paul George. It sounds crazy, but last year's MIP has made an even greater leap this season. George is now shooting 40 percent from deep and his vastly improved handle and midrange game have allowed him to function as the Pacers' No. 1 option. Still an elite defender, George is a legitimate superstar.
Ethan Sherwood Strauss, TrueHoop: Paul George. Can a player win MIP in consecutive years? George has exceeded even the most optimistic projections this season. A honed handle and fluid jumper have led to a 7 percent boost in his true shooting percentage. Translated into English, he's gone from "just OK" scoring efficiency to an elite level. Not bad for a guy who's already one of the best defensive players in basketball.
Justin Verrier, ESPN.com: Anthony Davis. The past few MIP awards have gone to guys who made The Leap into front-line players, or something thereabouts, and in 18 games Davis has gone from good to among the very best. Sure, there are lofty expectations attached to a No. 1 pick, but a top-five PER at age 20 is above and beyond. Not even a sophomore LeBron could top 27.21.
Michael Wallace, ESPN.com Andre Drummond. Apologies to Roy Hibbert, but the biggest beast in the East at center is the man-child in Detroit. Drummond is still just starting to realize how great of a player he can be. I see a young Moses Malone in the making.
Jack Winter, Warriors World: Paul George. Who cares that he won the award in 2012-13? His leap from All-Star to legitimate MVP candidate this season might be the league's single-most important development. The Pacers are expecting a championship these days, and George's incredible progress is the chief justification behind that optimism.
---
2. Who is the Coach of the Year so far?
Han: Gregg Popovich. Is it time we just treat Coach of the Year like the MVP race? LeBron James is the best player in the league. And Popovich is the best coach. Pop's influence on the Spurs is simultaneously imperceptible and all-encompassing. He rests starters and tinkers with lineups all while maintaining a consistent level of success. Is there any franchise whose level of excellence is more intertwined with its coach than San Antonio?
Herbert: Jeff Hornacek. There are plenty of worthy winners, but Hornacek has turned what was supposed to be a terrible tanking team into an offensive powerhouse. From opening night onward, the Suns have played hard for Hornacek and look as though they expect to win every time out. Hornacek has maximized his role players and Phoenix has suffered only one blowout loss.
Strauss: Terry Stotts. I hate choosing him because we tend to merely pick the guy whose team has surprised us most. I can't help it, though, because I just love how Portland plays. Stotts has figured out how to use Nicolas Batum as a facilitator and LaMarcus Aldridge as an offensive fulcrum. Much of this process began last season, but it's all coming together right now, and it's beautiful to behold.
Verrier: Jeff Hornacek. The tank-proof rookie head coach has one of the league's worst rosters playing at a level higher than the shorts from his playing days. The Suns are somehow playoff-bound in a legitimate conference, and that's in large part to Hornacek solving problems -- pairing Eric Bledsoe with another point guard, getting significant production from the Morris twins -- other coaches could not.
Wallace: Jeff Hornacek. His Suns team was supposed to be tank material, but apparently no one in Phoenix got the memo. Hornacek has taken a roster filled with castoffs and turned them into an erratic, scrambling, havoc-wreaking squad in the West.
Winter: Jeff Hornacek. There were several teams thinking "tank" this preseason that have far exceeded expectations as the new year approaches, but none more so than the upstart Suns. Hornacek's roster is one littered with redundancy and would-be first-round flameouts, but it hasn't mattered. Phoenix looks like a playoff team, and Hornacek's guidance is the cause behind that surprise.
---
3. Who is the Defensive Player of the Year so far?
Han: Andre Iguodala. For a team expected to shoot opponents into submission, the Golden State Warriors have found much of their success on the defensive end. Enter Iguodala, who anchored a Warriors D with a 96.5 defensive efficiency rating from the wing during the first month of the season. When Iguodala went down with a hamstring injury, Golden State's defense ballooned to 101.2 per 100 possessions, per NBA.com. It's time for a perimeter defender to gain some recognition.
Herbert: Roy Hibbert. It could be unanimous this year. When he's on the floor, Indiana is harder to score against than any team in recent history. The Pacers' defensive dominance isn't all because of Hibbert, but he's the anchor. Six years into his career, the 7-2 center's excellence on this end is more a result of his smarts than his stature.
Strauss: Roy Hibbert, who wields verticality like a weapon by which to bludgeon entire offenses. He's a terrifying defensive force in part because he need not jump. What good is a pump fake when your defender just stares back at you like nothing happened? The big man's uniquely imposing defensive style is what allows Indiana to guard with minimal help, thus shutting down 3-point opportunities for opponents. Hibbert's impact extends well beyond the paint.
Verrier: Roy Hibbert. The best defender on the best defense. Through his mastery of the ancient art of verticality, Hibbert is fouling less and thus able to make more of an impact than ever. The results are peak Dwight-esque: The Pacers allow 0.94 points per possession when Hibbert's on the court (versus 1.01 off it), per nbawowy.com, and opponents shoot 41.3 percent against Hibbert at the rim, per NBA.com.
Wallace: Roy Hibbert. While Paul George is clearly the Pacers' biggest star, Hibbert is the true barometer when it comes to measuring Indiana's champion readiness. No player impacts his team's defensive efficiency level more than Hibbert.
Winter: Roy Hibbert. The Pacers lead the league in defensive efficiency by 4.4 points per 100 possessions -- Hibbert's the biggest explanation why. He hasn't sustained his crazy early-season block pace, but the overall impact remains unmatched. Plus, did the term "verticality" even exist before Hibbert? That's reason enough.
---
4. Who is the Sixth Man of the Year so far?
Han: Isaiah Thomas. He won't be eligible by season's end, but Thomas certainly led the race before becoming a de facto starter. And it's easy to see why he's earned the gig. With a gaudy 22.32 PER, Thomas is tied for seventh in fourth-quarter scoring and top-20 in clutch-scoring situations (final five minutes of a game within five points). Isaiah Thomas: Such a good sixth man it didn't make sense to keep him out of the starting five.
Herbert: Isaiah Thomas, though he won't be in the running the next time we answer this question. Thomas outplayed many of the league's starters while backing up Greivis Vasquez for the first 18 games of the season. Averaging an efficient 20.9 points and 7.1 assists since taking over as the starter, he's proven he was overqualified as Sacramento's super-sub.
Strauss: Omer Asik. Kidding of course, but teammate Jeremy Lin is my choice so far. Lin's morphed into a superefficient "3 and drives" scorer after the Knicks gave up on him. He takes pressure off James Harden to create while putting constant pressure on a defense. I'd pick Isaiah Thomas for this spot, but I see his (now former) reserve position more as a colossal, protracted organizational mistake than IT2's real role. Your best player shouldn't be your "sixth man."
Verrier: Jeremy Lin. He's technically started as much as he hasn't, but Lin seems to have found who he is somewhere in the meaty center between that spectacular first full season and disastrous second one. He's getting others involved less, but by embracing his role as a score-first spark plug and the Moreyball ethos, he's shooting and scoring better than he ever has.
Wallace: Reggie Jackson. This award typically is settled by scoring numbers, so there's always a chance someone such as Jamal Crawford or Louis Williams will be a factor. But a strong case can be made that there isn't much of a drop-off at all when Jackson enters the OKC lineup for Russell Westbrook. That speaks volumes.
Winter: Reggie Jackson. Isaiah Thomas has been a better player thus far, but was recently promoted to the starting lineup as a result of the Rudy Gay trade. Jackson is still a great choice, though, having already hushed those who questioned Oklahoma City's summer stagnancy in the wake of losing Kevin Martin.
---
5. What is the Team of the Year (2013-14 season) so far?
Han: Trail Blazers. Has there been a more unexpected team than Portland? The Blazers are shooting a blistering 40.5 percent from behind the arc, riding their 3-point deluge to the best record in the league and raising the conversation from playoff contender to title contender. Regardless of whether they can sustain the discussion for the duration, simply building the topic deserves acknowledgment.
Herbert: Trail Blazers. They're the league's biggest surprise and best story. Observers have waited all year for the other shoe to drop, but it hasn't happened. The Blazers keep coming up with huge wins both at home and away, and they're playing a beautiful brand of ball. No team is more fun to watch.
Strauss: Thunder. Oklahoma City is top 4 in both defense and offense. Those are impressive results, and this season's process has been pleasantly surprising. Despite muted expectations, Reggie Jackson, Jeremy Lamb and Steven Adams have developed into real assets. I loudly derided the James Harden trade, but this team has proven it can thrive without his help.
Verrier: Pacers. The Thunder have probably been the best team and the Trail Blazers the best story, but the Pacers' continued rise as legitimate equals with the Heat, if not the favorites already, means it's their moment for the time being. Any lingering doubts about their bona fides, as contenders and award candidates, were dispelled with that 16-1 start. Not adding them to the Christmas Day lineup now seems sacrilegious.
Wallace: Trail Blazers. What the Blazers have done by setting the pace out West qualifies as the most stunning development in the league so far, aside from injuries to Derrick Rose and Kobe Bryant. But the more you watch Portland, the more you realize this is no fluke. It has a perfect combination of balance, brilliant coaching and big-time anchors in LaMarcus Aldridge and Damian Lillard.
Winter: Trail Blazers. Oklahoma City, Indiana, San Antonio and Miami have been just as good this season, but we expected dominance from such an esteemed quartet. Portland's sterling 24-5 mark is something different altogether, indicative of brilliant coaching from Terry Stotts and a myriad individual improvements from core players. ESPN's summer forecast had them 10th in the Western Conference, and the Blazers might be title contenders.


ESPN.com and the TrueHoop Network
Michael Wallace writes for ESPN.com. Justin Verrier is an NBA editor for ESPN.com. Ethan Sherwood Strauss contributes to TrueHoop. Andrew Han and Jack Winter write for the TrueHoop Network.
• Follow the NBA on ESPN on Twitter | On Facebook | On Google+