Happy New Year! While the calendar flips to 2014, the NBA soldiers on with the rest of the 2013-14 season. What's in store for LeBron James and others? Who will surprise us the rest of the way? We ask our panel of five.
---
1. One year from now, LeBron James and the Heat will be ...
J.A. Adande, ESPN.com: Still together. I'm cooling on the Cleveland scenario, never felt even lukewarm about the Lakers. Even though we can't be sure who'll be with him (or the condition of Dwyane Wade's knees), name a better environment for LeBron than Miami, with its trustworthy front office and easy-to-pitch locale for any sidekicks he recruits.
Kevin Arnovitz, TrueHoop: Three-time champions, intact and ready for another go at it. James will look around and imagine life elsewhere, but the quality of life in Miami -- in terms of both geography and team culture -- can't be beat. The Heat will need to reload the supporting cast soon. But the organization is getting good at navigating the free agency market, and the opportunity to play in Miami with LeBron will always get an NBA player's attention.
Danny Chau, TrueHoop Network: Still intact. On Monday night, Norris Cole fell square on his jaw after landing awkwardly on a drive. As he writhed on the floor, the entire Heat roster walked to the other end of the court and encircled him. It was a warm gesture; one of many similar acts of camaraderie that make it hard to believe the team would willingly dissolve.
Marc Stein, ESPN.com: Retooling. Or reloading. Or another one of those R words. I was certainly high on the list of know-it-alls who said LeBron would stay in Cleveland, so I know it's risky to simply presume that Miami won't suffer the same fate. But if you're asking me now, more than six months out before LeBron has to decide, I continue to regard staying in Miami as by far LeBron's most appealing option. It just ain't right, in my eyes, for a player of LeBron's stature to switch addresses again after just four years in Miami. When you're the undisputed No. 1 player on the planet, with Pat Riley at your side to orchestrate, you recruit other good players to join you. You don't go looking for another place to play as if to say, "South Beach, like Cleveland, can no longer do it for me."
Ethan Sherwood Strauss, TrueHoop: On the same team, trying to regroup after a painful playoff elimination. Hey, I'm just playing the odds. It's wise to take the field over the Heat this season. As for the offseason, it's wise to take the Heat over the field. There just aren't any good options for LeBron & Co. to run off to. Also, the Heat have done a great job building a team around their superstar.
---
2. One year from now, the Lakers, Nets and Knicks will be ...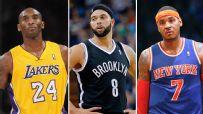 Adande: Dramatically different. The Lakers by necessity/design, with a roster full of upcoming free agents. The Nets and Knicks have to shake things up. Carmelo Anthony will either leave the Knicks or force them to remake the roster to make it worth staying. In Brooklyn, Paul Pierce's contract is up ... and Kevin Garnett can't be long for this team, can he?
Arnovitz: Swimming upstream. With a few exceptions, a team that relies on the health of older players tends to run into trouble. Not only does it commonly lose its best players to injury and have to replace them with lesser ones, but it has a difficult time building cohesiveness and mastering the system. The Nets are old and getting older -- ditto the Lakers -- while the Knicks have few assets. And does any of them have what can be fairly called a plan?
Chau: Less miserable than they are this season. Is that a cop-out answer? Absolutely. Here's what we know: The Lakers will enter the offseason with the entirety of their functional rotation frolicking in free agency. The Knicks will try their hardest to pitch trade scenarios that might rejuvenate their winning ways. The Nets will be stuck. Other than that, who knows?
Stein: One year from now I'll still be wondering how the 5-on-5 Bot thought it could squeeze three messes this big and complicated into one short-answer question. History tells us that the Lakers always find a way. And I believe that. It might take longer than 12 months, but the mere fact that the Lakers are suddenly considering this Andrew Bynum deal to get their finances in order makes me think that Laker Haters better enjoy this down cycle while they can. Come the summer of 2015, or 2016 at the latest, they'll inevitably have a new star in place to either partner with Kobe Bryant or take over as face of the franchise. But when it comes to the Knicks and Nets, who've combined to mortgage countless future draft assets for a win-now present that no longer exists, I'm gonna need way more time and space to deal with those two. Sorry.
Strauss: Bad. It's likely (I think) that Anthony takes the biggest payday and stays with the Knicks. Even if he came to L.A., he's not the kind of transformative player who'd automatically make the Lakers good again. With or without Melo, the Knicks will continue to be mediocre because they're a poorly run organization. Same goes for the Nets, who run themselves as if the calendar never flips to a new year.
---
3. The team taking the biggest leap in 2014 will be ...
Adande: The Blazers. Even if they don't land in the NBA Finals, they're setting themselves up for a good shot at winning the franchise's first playoff series since 2000. Meanwhile, the experience they gain in the postseason will set them up for an even deeper run in 2014-15.
Arnovitz: The Wizards and Timberwolves have the potential to rip off 10 out of 14 and establish themselves firmly in the upper middle-class of their respective conferences. I write this with no great confidence, but the Timberwolves do some nice things offensively when they're at full strength and the perimeter defense is steady. The Wiz are seven deep with Bradley Beal and John Wall still improving. They're a solid candidate for the East's No. 3 seed.
Chau: The Suns. Though the Warriors appear to have gotten their groove back, the Suns are still a dark horse to win the Pacific, which would've been a laughable assertion two months ago. The team isn't just competitive, it's thriving. And with so many tradeable pieces and draft picks, the team could look awfully scary once 2014-15 comes around.
Stein: Since I'm guessing you won't let me defer this answer until we know the results of the 2014 lottery ... how 'bout Phoenix? There are still plenty of skeptics out there who will consider it a leap if the 19-11 Desert Cinderellas can keep this up for 52 more games to get to the playoffs. All the talk, furthermore, about the Suns' willingness to surrender some of those first-round picks they've stockpiled for a veteran who can help immediately suggests more leap potential.
Strauss: The Bucks. I still like some of the pieces Milwaukee has. There's so much defensive talent between Larry Sanders, John Henson, Ekpe Udoh and Giannis "Copy and Paste My Name" Antetokounmpo. Add someone like Jabari Parker, Andrew Wiggins, or Dante Exum and this gets interesting.
---
4. The player taking the biggest leap in 2014 will be ...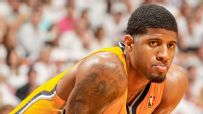 Adande: Paul George. He already has racked up plenty of acclaim from the NBA crowd, but he hasn't actually done anything yet. He's got a chance to change that in 2014 by picking up some hardware (perhaps an All-Star MVP or even a full-season MVP) and/or leading a team to the NBA Finals. Watching him play, it doesn't feel as if he has much more room for improvement this year. This could be the year the résumé reflects it.
Arnovitz: I want Ricky Rubio to be the answer because I feel certain (with no rational basis, of course) that he's better than a 34.5 percent shooter -- and certainly better than 40 percent at the rim. But a more reliable candidate might be Antetokounmpo. Two weeks ago, the Bucks installed the rookie as the starting shooting guard. The results have been mixed, but the presentation has been tantalizing.
Chau: Anthony Davis (though, literally, Gerald Green is probably the answer here). His ability to completely change the way teams play on either end of the floor is already staggering, and he isn't even 21 yet. His remarkable ascent will continue in the new year, and if the Pelicans stay in the hunt for the eighth seed, you'll know why.
Stein: I'm going to hopefully nominate Derrick Rose here. The leap, of course, would be that his body mercifully stops betraying him.
Strauss: As a fan of three-named players, I'll go with Michael Carter-Williams. It's counter-intuitive, but rookies who turn the ball over a lot tend to prosper later. Also, shooting often improves over the course of a career. I say MCW gets a little better from 3-point range and really takes off next season as a point guard who can defend wings.
---
5. One surprise that will happen in 2014 is ...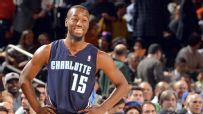 Adande: The Charlotte Bobcats will somehow make the playoffs even though their best player and leading scorer, Kemba Walker, is shooting only 41 percent from the field. Walker has missed 304 shots already (that's 110 more than LeBron). But as Shaquille O'Neal used to say about his free throws, Walker makes them when it counts.
Arnovitz: Jason Collins will check into a regular-season NBA game. Between frontcourt injuries, the release of several players with non-guaranteed deals and the leadership of at least one NBA owner and front office, Collins will land on a roster before the All-Star break.
Chau: The Bobcats will not only win their first playoff game in franchise history, but will also advance, assuming the Bobcats are a sixth seed or higher. Outside of losing, one of the few constants in the Eastern Conference has been the Bobcats' stellar defense. The commitment to a grinding style of play could be their edge come playoff time.
Stein: This rash of injuries (and re-injuries) suffered by big-name players will stop already. But I know that's not really a prediction. It's more like a futile plea from yet another NBA-lover who heard Kyrie Irving talking about how he felt "a pop" in his left knee on the last night of 2013 and wonders when this will ever end.
Strauss: The Rockets will trade James Harden. He's bad at defense and they care about things others don't seek to quantify. I could see Houston trading Harden for some depth and high draft picks.


ESPN.com and the TrueHoop Network
J.A. Adande, Kevin Arnovitz and Marc Stein cover the NBA for ESPN.com. Ethan Sherwood Strauss writes for TrueHoop. Danny Chau is a contributor to the TrueHoop Network.
• Follow the NBA on ESPN on Twitter | On Facebook | On Google+