Who made the best move at the trade deadline? Did LeBron James reclaim his throne from Kevin Durant? Is Jason Collins a good fit on the Nets? We weigh in on the five topics dominating the NBA conversations.
---
1. Fact or Fiction: The Pacers are the big winners at the deadline.
Amin Elhassan, ESPN Insider: Fiction. I may be in the minority here, but I don't think their deal for Evan Turner makes them that much better. Even when factoring in Danny Granger's sluggish play this season, he's still a better shooter and spacer than Turner, who needs the ball in his hands to be effective and must accept a greatly reduced role in a contract year.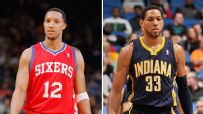 Tom Haberstroh, ESPN Insider: Fiction. He's a bad defender, he can't shoot 3s and he has never had a PER above 14 in his career. I'm skeptical he'll move the needle for their championship hopes. But for Granger's expiring contract, I can see the upside, especially with a coaching staff that gets the most out of its young players. He needs work.
Preston Schmitt, Bucksketball: Fact. By default. Granger is a shell of his former self, and Turner should help solidify Indiana's bench unit heading into the playoffs. If the Pacers can't afford to retain Lance Stephenson this summer, Turner will be a nice -- if likely overpaid -- fallback option.
Tom Sunnergren, Hoop76: Fiction. At a deadline with no home runs, the Pacers might have grounded into a fielder's choice. Turner is a lousy professional basketball player -- he's never had more than .068 win shares per 48 minutes in any of his four seasons -- whose counting stats are inflated by Philly's bonkers pace. Maybe Indiana still sees potential in the former No. 2 overall pick. The city of Philadelphia wishes the Pacers the best.
David Walker, Roundball Mining Co.: Fiction. In the immediate, maybe, although I'm not sure how much of an upgrade Turner is over even a diminished Granger. But talking long term it has to be the Sixers, who've basically cornered the market on second-round picks without giving up anything that wasn't going to be gone after this season anyway.
---
2. Fact or Fiction: The Celtics made the right move keeping Rajon Rondo.
Elhassan: Fact. Again, I think I'm in the minority, but I'd like to see the Celtics try to keep Rondo and upgrade the talent around him. Worst-case scenario, he'll be able to play up his value over the remainder of the season and Boston can get a better haul for him around the draft or in the summer
Haberstroh: Fact. There just wasn't enough time to get fair value. If teams are asked to give up the farm for Rondo, they need to see more than five games of good ball. This is a guy who's turning 28 on Saturday and coming off a career-altering injury. Revisit trades this summer once teams have a better idea of what they're bidding on.
Schmitt: Fact. Rondo's value is arguably at an all-time low. He doesn't serve much of a purpose -- present or future -- on a tanking (or per Danny Ainge, "rebuilding") team, so the trade rumors will persist. Boston can get better value for him this offseason.
Sunnergren: Fact. In Rondo, the Celtics have the very thing the league's other bottom-feeders are feverishly pursuing: a legitimate, albeit flawed, star who's squarely in his prime. They were wise to pass on a reported Chandler Parsons-less offer from Houston. (Pro tip for GMs around the league: If Daryl Morey covets one of your players, you should, too.)
Walker: Fact. The trade deadline was anticlimactic for a reason; the market just wasn't there for the big names. Rondo may not be the superstar needed to build a contender but the Celtics are aiming to try and find one in this year's draft. Going off their record so far, that doesn't seem like a bad bet to make.
---
3. Fact or Fiction: The Lakers need Kobe to be "cool" with all moves.
Elhassan: Fiction. Did I fall in a wormhole? Is this 2006? Why do we care that Kobe is upset that Steve Blake, a vet on an expiring deal, won't be finishing the season with the worst team in the West? Is he worried they won't make it to second worst? The Lakers need to continue to make the best moves for the franchise, regardless of whether Kobe "approves" or not.
Haberstroh: Fiction. Kobe is the employee, not the boss. If he was in his prime and not recovering from devastating injuries at the tail end of his career, maybe then could he have a say in the front office's personnel moves. Even though he's in a suit, he's not a suit.
Schmitt: Fiction. The Lakers should consult Kobe on most, if not all, personnel moves -- but that needs to be the extent of it. Maybe they can try to justify his future salary by giving him a dual role. Although, if Kobe wanted to keep a 33-year-old Steve Blake for sentimental reasons, he probably wouldn't make a very good general manager.
Sunnergren: Fiction. The organization might be operating this way -- as evidenced by Bryant's $48 million extension, the Lakers are unusually generous with their star -- but they'd be foolish to pass on deals that don't have the Kobe seal of approval. He isn't going anywhere. Catty tweets aside, the 35-year-old will be happy if the team competes, and the best way to get there isn't to make him the de facto GM.
Walker: Fact. For better or worse they've tied themselves to Kobe for the next two years, and it's unlikely he'll be willing to spend them rebuilding for a future he's not going to be part of. You don't give an aging player that kind of money if you plan to ostracize him from the decision-making process.
---
4. Fact or Fiction: LeBron asserted his dominance over KD on Thursday.
Elhassan: Fiction. He had a good game, as did Durant. But the Heat got the big win. It's similar to what happened down in South Beach a few weeks ago. This is basketball, folks. It happens!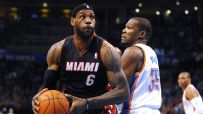 Haberstroh: Fact. On Thursday, yes. But it's just one game. One game. It's frustrating that each matchup between these two feels like a referendum on their careers. Can't we just say, "Hey, how awesome is this?"
Schmitt: Fact. Aside from his eight turnovers, LeBron controlled the game on both ends of the court. His team also won by 22, so that should count for something. To be fair, Durant had to adjust his game to accommodate Russell Westbrook's long-awaited return. Then again, LeBron seemingly has to do that every other week for Dwyane Wade.
Sunnergren: Fiction. James was awesome in the Heat's 103-81 win -- his eight turnovers being the only thing keeping him from "otherworldly" -- but did that really change anything? Despite the generally agreed upon position that Durant is having a stronger 2013-14, the conventional (and correct) wisdom is that Bron is still the class of the NBA. Thursday night, he simply, and forcefully, reminded us of that.
Walker: Fiction. LeBron asserted his dominance over Durant about as much as Durant did over him when they met up last month. One regular-season game may be enough to shift some people's opinions, but it doesn't mean much in the long run.
---
5. Fact or Fiction: Jason Collins would help the Nets.
Elhassan: Fact. I touched upon this on TrueHoop TV After Dark (Thursdays after the first TNT game; catch the fever!): The Nets are in need of a big man who can help shore up the defensive glass. Collins might be past his prime, but he's a relatively cheap solution to a problem. Worst-case scenario, let him go after a 10-day expires and seek a better option.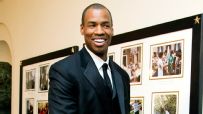 Haberstroh: Fiction. It's impossible for us to know what kind of shape the 35-year-old is in without seeing him play, and that's a big deal. If he's ready, then, yes, he might help an NBA team. But I think he's better suited on a Western Conference team like the Clippers as a Dwight Howard specialist. Not seeing the need in Brooklyn.
Schmitt: Fact. He played with Kevin Garnett and Paul Pierce last season, and his familiarity with Jason Kidd would make for a pretty seamless transition. His only tangible skill -- stout post defense -- serves less of a purpose each passing season, but it could be a significant luxury against the likes of Roy Hibbert and Jonas Valanciunas in the playoffs.
Sunnergren: Fact. The tremendous intangibles Collins would bring to bear, both inside and outside the locker room, have been enumerated by folks more articulate on these matters than I. Also, consider the game. The Nets could bump into LeBron and the Heat or Hibbert and the Pacers in the postseason. A long-shot upset would look shorter if Brooklyn added a veteran with a knack for frustrating dynamic post players.
Walker: A tentative fact. It's hard to know exactly what Collins could contribute without knowing what condition he's in right now, but it's difficult to see the harm in a 10-day for a player who could potentially fill a need.


ESPN.com and the TrueHoop Network
Amin Elhassan and Tom Haberstroh cover the NBA for ESPN Insider. Preston Scott, Tom Sunnergen and David Walker write for the TrueHoop Network.
• Follow the NBA on ESPN on Twitter | On Facebook | On Google+