With Chris Paul playing like an MVP, the Clippers have the third-best record in the Western Conference, while Dwight Howard and the Lakers would be on the outside looking in if the postseason started today.
1. How concerned should Lakers fans be about Dwight Howard?
Kevin Arnovitz, ESPN.com: Pretty concerned. Howard might be on an expiring deal, but for all practical purposes, the Lakers are bound to him -- or nobody. If the Lakers and Howard part ways at the end of the season, the Lakers don't have the flexibility to fill that spot with another max talent. In fact, they're likely to be more than $4 million over the tax line, which means they can't even orchestrate a sign-and-trade involving Dwight.
Andrew Han, Clipper Blog: Let's go down the list. Physically: Clearly Howard is not recovered from his back surgery and is laboring through a torn labrum. Mentally: His clashes with the coach, Kobe Bryant and Steve Nash have escalated to the point of parental involvement. Emotionally: There is genuine discussion that Howard's unhappiness could lead to a change of scenery, something unthinkable six months ago. It seems fair to think Lakers fans should be very concerned.
Arash Markazi, ESPN LA: They should be concerned on multiple fronts. Not only is Howard not healthy (back and shoulder) but he has been a shell of his former self this season. Will he ever get back to the old form he showed in Orlando? You'd like to think so but there's obviously no guarantee. And then there's that minor issue about Howard being a free agent after this season. Everyone seems to think he'll re-sign, but if this team finishes out of the playoff race and is committed to keeping Mike D'Antoni, anything is possible.
Darius Soriano, Forum Blue & Gold: Dwight's health and demeanor should be more than a minor concern for fans. He's admittedly not healthy, and it seems those physical struggles mixed with frustrations with his role are hampering his performance. Long term, however, I think concerns should lessen. I still see this team figuring things out eventually with Dwight being a major part of that.
Justin Verrier, ESPN.com: Somewhat. Howard deserves more slack (that he won't get because of his wince-inducing Orlando shenanigans) for playing through injuries, but he doesn't seem to get it yet; he said all the right things about playing under Kobe when he arrived in L.A., but he clearly wants to be the focal point, in every way. Luckily, despite the "Superman" alias, Dwight is actually just "Man" and can quite easily make the necessary growth.
---
2. Where is Chris Paul on your MVP ballot?
Arnovitz: A strong third behind LeBron James and Kevin Durant, and that should come as no slight considering we're talking about players who inhabit an intergalactic space in the basketball universe. Apart from those two guys, Paul has been the biggest difference-maker in the league this season, something made obvious by his recent absence.
Han: After the Clippers went 6-6 in the 12 games Chris Paul has missed, it's become quite evident Paul singularly elevates them to contender status. But that feat still puts CP3 behind LeBron's near-picturesque season. And as much fun as it's been to debate LeBron versus Durant, lately it feels more like LeBron and then Durant or Paul.
Markazi: I have Paul second behind LeBron James. If James wasn't having one of the greatest seasons ever, Paul might actually be in the conversation to win, but if James keeps this up, he'll win in a landslide. What Paul has meant to the Clippers, however, cannot be understated. The Clippers were 32-9 at the midway point of the season and tied for the best record in the NBA. When he missed 12 games with a bruised right kneecap, the Clippers were 6-6. Quite simply, the Clippers are one of the best teams in the league with Paul and are a .500 team without him.
Soriano: I have Paul third behind LeBron and Durant. Paul is having a tremendous season, and the Clippers' struggles with him missing games due to injury only reinforce his value. However, what LeBron and Durant are doing statistically is simply more impressive than Paul, and when including a variable such as health, those two have had the better campaigns.
Verrier: Third behind, well, y'know. Paul's numbers (26.61 player efficiency rating, 5-to-1 assist-to-turnover ratio) and the Clippers' noticeable leap forward in the first full season under his stewardship present a good case. But LeBron James and Kevin Durant are simply on another level playing for two teams playing above-.700 ball. Paul's preference for playing less flashy and more as a manager, as well as the 12 games he's missed already, surely won't help with voters, either.
---
3. Fact or Fiction: The Clippers can win a title as currently constructed.
Arnovitz: Fact. I wouldn't designate them as favorites, but there's solid evidence the healthy version of this Clippers team can compete with San Antonio and Oklahoma City. Come the postseason, some unknown variables such as team defense and the tactical chess match will come into play, but the Clippers don't have to add a graybeard with a championship pedigree to be in the mix.
Han: Fact, although that path is difficult. The Clippers have shown a sustained level of excellence this year, residing for a large part of the season in the top five of both offensive and defensive efficiency. As they return to health, the pervasive question is: How navigable is the road through San Antonio, Oklahoma City and Miami?
Markazi: Fact. Of course, this doesn't necessarily mean they will, but they certainly can. The Clippers are not only the deepest team in the league, but they have a playmaker and a leader in Paul who makes everything flow and ultimately makes the Clippers elite. Some might argue the Clippers need a third star to add to Paul and Blake Griffin to push them over the top, but on any given night, that player can be Jamal Crawford, Chauncey Billups, Eric Bledsoe, DeAndre Jordan or Caron Butler.
Soriano: Fiction. The Clippers have spacing issues on offense and don't have a reliable two-way player to pair with Griffin in the frontcourt to close out tight games. When you add in Vinny Del Negro pulling the strings on lineup decisions, I'm not sold this group can win it all this season or beyond without some roster tweaks.
Verrier: Fiction. This season is a stretch given the cavern that exists between the reigning champs and everyone else, and the Clippers' bench, one of their main sources of power, has a finite window of effectiveness because of age and contractual obligations. Their core indeed has plenty of room to grow, but it's hard for a 24-year-old franchise center to make substantial progress in 25 minutes a game.
---
4. CP3 or D12: Who wins more titles in L.A.?
Arnovitz: Chris Paul. Griffin's trajectory offers more promise than Howard's, and while the Clippers' spreadsheet isn't exactly roomy, there's a bit more flexibility than what the Lakers have on the books for the near future. The only caveat: if something strange happens in Miami in July 2014.
Han: With all the uncertainty surrounding Dwight Howard, the safe money would have to be on Chris Paul. Never mind their respective skill, health or teams; whether Howard even remains in Los Angeles is a convoluted affair. Meanwhile, there is nary a whisper about any displeasure in Paul's Angeleno experience. CP3 wins by default.
Markazi: CP3. As crazy as this might have sounded last season, Paul is a bigger lock to stay with the Clippers than Howard is to stay with the Lakers. Now if we assume both are staying in L.A., Paul is the centerpiece of a team that has Griffin, Jordan, Crawford and Butler surrounding him for the foreseeable future, while Howard is looking at an uncertain future with Pau Gasol and Metta World Peace likely gone after this season and Kobe Bryant and Steve Nash possibly gone after next season.
Soriano: While the odds favor neither breaking through to take out the Thunder and the Heat in the same season to claim a title, I'll go with Howard. I still believe he will return to top form eventually, and, until proven otherwise, give me the elite big over the elite small when gauging championship chances.
Verrier: D12. Like the MVP, this figures to be an OKC-Miami bipartisan race for the foreseeable future. The L.A. teams, though, represent the best third-party candidates, and among them, the Lakers still have the edge in the type of front-line talent that usually keys championships. The Clippers have the ability to turn their gluttony of depth into a Kevin Garnett, but as of today, their title hopes are based on possibility while the Lakers' involve a better managing of their reality.
---
5. Lakers or Clippers: Who wins a seven-game series?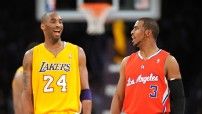 Arnovitz: Clippers in five. I'll take the team with the more efficient defense, superior speed and athleticism, better health, more unity, and a firm understanding of how to control a possession.
Han: Clippers. This question has only gotten easier as the season progresses. Nash and Howard continue to play through injury, Gasol is sidelined for a lengthy period with a torn plantar fascia, and a Lakers team not built to rely on its bench is suddenly thin in star power. For this season, the Clippers are the more reliable team.
Markazi: Clippers. Forget about the names and the history of these two teams, which has nothing to do with the here and now, and this is an absurd question. The Clippers are about 20 games over .500 while the Lakers have been below .500 for much of this season. The Clippers would win easily, and chances are their playoff series wouldn't get to a deciding Game 7.
Soriano: Today, the Clippers. They have the superior depth, and with Paul playing as well as he is, he tips the scales in their favor. However, if the Lakers keep improving and get hot going into the playoffs, I see them being nearly as tough an out as the Thunder and wouldn't bet against them in a battle with the Clippers.
Verrier: Clippers. I remain one of the foolish few who think the Lakers can stumble upon the magic solution like loose change on the sidewalk and emerge as a force in a series, but the loss of Pau Gasol only makes a porous bench unit that much worse, especially since Mike D'Antoni has chosen to leave Robert Sacre on the bench when Howard sits.


ESPN.com and the TrueHoop Network
Kevin Arnovitz and Justin Verrier cover the NBA for ESPN.com. Arash Markazi writes for ESPN Los Angeles. Andrew Han and Darius Soriano are part of the TrueHoop Network.
• Follow the NBA on ESPN on Twitter | On Facebook | On Google+