Can the Los Angeles Clippers best the Chicago Bulls for a second time in less than a month (ESPN, 9:30 p.m. ET)? Our panel digs in on what's ahead for two teams currently sitting in fourth in their respective conferences.
1. The Clippers are …
Kevin Arnovitz, ESPN.com: A team composed of savants, athletic freaks and extraterrestrials. Who knows if everyone in the rotation will continue to produce at this level, but the best version of the Clippers -- and we've seen more than a glimpse -- looks impressive. It's a deep roster stacked with two five-man units, each efficient and doing enough defensively right now to make the Clippers more than just a curiosity.
D.J. Foster, ClipperBlog: Deep. Clippers lineups consisting solely of bench players are outscoring their opponents by a combined plus-67 points -- an absurd number. This is no longer just the Chris Paul and Blake Griffin show, and that's evidenced by a jump from 18th in defensive efficiency last season to eighth this season. That's the range the real contenders tend to congregate.
Nick Friedell, ESPN Chicago: Fun to watch. They've got talent all over the floor and they can play fast. They are a highlight editor's dream and they've got the type of veteran leadership that coaches dream about. You never know what can happen with Chris Paul and Blake Griffin on the floor.
Jason Gallagher, BallerBall: "Deeper than Wu Tang" -- Kanye West. Not only do the Clippers have Blake Griffin, DeAndre Jordan and the best PG in the league in Chris Paul, they've got three other guards who could easily start for a number of different teams. Now all they need is Grant Hill and Chauncey Billups to get healthy and Lamar Odom to do exercise and they'll be a force.
Curtis Harris, Hardwood Paroxysm: Running red hot and ice cold. They began the season on a two-game winning streak, and then had a two-game losing streak. Then a six-game winning streak followed by a four-game losing streak. Now they're riding another six-game winning streak. Symptomatic of a team with so many new, but good, pieces.
---
2. The Bulls are …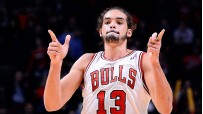 Arnovitz: Pretty admirable when you consider what they're putting out there every night. In some sense, they're the opposite of the Clippers. With Derrick Rose out, Chicago doesn't have anyone with innate, jaw-dropping talent. The Bulls get by on their street smarts and commitment to the defensive system. Is anyone surprised they have the league's top-ranked defense yet again?
Foster: Survivors. No Derrick Rose, a few overworked stars (Luol Deng and Joakim Noah are first and second in minutes per game), an awful bench and a formula so heavily dependent on defense should spell doom, but the Bulls just keep hanging around and will be ready to be rescued by Rose soon.
Friedell: Missing Derrick Rose badly. The Bulls are still winning games -- but they miss the former MVP's presence every night. He is the straw that stirs the drink in Chicago. He is the guy who would always save the team late and make big shots. He is the player who made the Bulls fun to watch.
Gallagher: "Surviving the times" -- Nas. The way the Bulls are fighting night after night without their superstar is extremely admirable. Just fighting to stay alive without Rose is one thing, to actually lead their division is something they should be very happy with.
Harris: A slaughterhouse straight from Upton Sinclair's "The Jungle." There's a lot of sloppy, scrappy ingredients being put into their defensive success. And like that delicious hot dog that rolls out of the factory, the Bulls are having a delectable season atop the Central Division. Things will be even better when the mustard of Derrick Rose is added back in to the mix.
---
3. Tom Thibodeau is …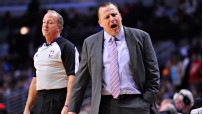 Arnovitz: An architect. Only a few guys in an era construct a system whose style and principles come to inform more than half the playbooks in the NBA. It's easy to imagine this roster being well below .500 in the hands of a lesser coach.
Foster: Old school. He's not a player's coach concerned with managing egos or keeping mouths fed offensively. He simply demands defensive excellence -- a throwback to the days when head coaches were more focused on strategy than psychology.
Friedell: Intense. He doesn't even need to speak on the sidelines anymore because his death stare tells his players all they need to know. Of course, Thibodeau is as feisty as ever and screams more than probably any other coach in the league. His players get tired of the way the message is delivered sometimes, but they appreciate results. In a bottom-line business, Thibodeau's teams are always prepared to win.
Gallagher: "A leader to the bone" -- Public Enemy. The Bulls were destined to struggle offensively without Derrick Rose, but Thibodeau has his guys playing fantastic defense. They are second in the league in points allowed which, for the moment, is good enough for the fourth-best record in the East.
Harris: Working hard for Coach of the Year again. He's getting every ounce out of this thin roster, especially on defense. The Bulls are third league-wide in defensive rating despite losing solid defenders in C.J. Watson and Ronnie Brewer. However, Thibs might consider dialing back Luol Deng's league-leading 41 minutes played a game.
---
4. Vinny Del Negro is …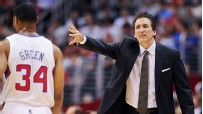 Arnovitz: Inspiration over innovation. Spirit over scheme. Trust over tactics. He's got a first unit run by Chris Paul, one of the two most intuitive players in the game, and a second unit that can defend and features five guys who can move the ball. From Del Negro's position, it's best to allow the vets to work their strengths, not tether Paul and let it all marinate in a positive culture.
Foster: A figurehead. The significant decision-making power both on the court and in the front office rests with Chris Paul, leaving only a small sliver of responsibility for Del Negro. Truth is, Del Negro probably deserves less blame when things go wrong, and even less of the praise when things go right.
Friedell: Laid-back. Having covered Del Negro's final season in Chicago, I do think he's matured as a coach in the past few years. He seems at peace with his situation in Los Angeles and allows his veterans to lead a talented team to victory on most nights. Vinny may not be the best X's and O's coach in the world, but he is a player's coach and has learned from his mistakes. He always refers to himself as a "fighter" and that attitude has rubbed off on his team in a good way.
Gallagher: "Brushing off the haters" -- Lupe Fiasco. After years of being scrutinized, Del Negro has the Clippers playing beautiful basketball. They are exciting, confident and, most importantly, the best basketball team in Los Angeles.
Harris: Inexplicably starting Willie Green. Slick Willie is a clear-cut burden on the Clippers when he's in the game and it is hard to justify him being on the court beyond garbage time. This just highlights Del Negro's need to settle on a clear, steady rotation for the Clippers. But it is mid-December, so there's plenty of time before the postseason to find the right mix.
---
5. The Clippers' and Bulls' ceilings are …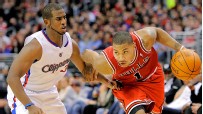 Arnovitz: A bit different. It's not inconceivable to believe the Bulls can scrap their way to the conference finals by tightening the defensive vise on a couple of opponents, but they probably don't have the offensive fuel to reach June. The Clippers have a much tougher road, but have the talent to match up against the best. Do they have the wits?
Foster: Less important than their floors. The Bulls just need Rose to regain his health and most of his pre-injury form, while the Clippers need to do enough damage in the postseason to retain Chris Paul this summer.
Friedell: Similar. Both of these teams have pieces for the future, but neither one has enough to take it all the way. The Bulls gutted one of the best benches in the league to save some money and aren't sure how Rose will be when he returns. They still don't have a clear No. 2 scorer to play with him. The Clippers have a deep and talented team, but I don't think they've been together long enough to win right now. They need more time to jell … and they need everyone to stay healthy. Either way, I still don't think they have enough to win this season.
Gallagher: "Championship rings" -- Lil Wayne. The Clippers are clearly an elite team in the West so this isn't that farfetched. As for the Bulls, they may look weaker now, but they are growing stronger as a team. If they can win their division and get a 100 percent healthy Derrick Rose in the playoffs, I could totally see them going all the way.
Harris: Clippers will probably win the Pacific Division and their ceiling is a conference title. It's not likely that they reach that ceiling, but they are a nice dark-horse pick. The Bulls can win a weakened Central Division, but the second round is their ceiling -- unless Derrick Rose is miraculously no worse for wear when he returns.


ESPN.com and the TrueHoop Network
Kevin Arnovitz writes for ESPN.com. Nick Friedell covers the Bulls for ESPN Chicago. D.J. Foster, Jason Gallagher and Curtis Harris are part of the TrueHoop Network.
• Follow the NBA on ESPN on Twitter | On Facebook | On Google+