John Hollinger shared his 2011-12 Thunder player profiles; now it's our 5-on-5 crew's turn to weigh in.
1. For which Thunder player is the 2011-12 season most important?
J.A. Adande, ESPN.com: Russell Westbrook. Just like his 2010-11 season was the most important for the Thunder. They needed him to join Kevin Durant as an All-Star-caliber player and he did so, but Westbrook's decision-making in the playoffs left a lot to be desired. If he can figure out when to shoot and when to pass, the Thunder will get even more dangerous.
Graydon Gordian, 48 Minutes of Hell: Kendrick Perkins. Perkins has been an elite post defender, but injuries have hampered his contributions on both ends since the Celtics' 2008 title run. It's time for Perkins to stay healthy, re-emerge as a top five defensive big man, improve his scoring off the low block and prove he can be a key contributor for another championship roster.
Bret LaGree, Hoopinion: To evolve from a massively talented young player into a great player, Westbrook needs to demonstrate the decision-making ability necessary to maximize both his gifts and those of his teammates.
Danny Savitzky, Nets Are Scorching: Durant. He has continued to improve in each of his seasons in the league, but the Thunder's loss in the Western Conference finals last season will leave critics and supporters wanting more. As we've seen with LeBron James -- even though Durant is far more adored around the NBA -- he won't be able to make the transition to all-time great until he can win a championship. With Serge Ibaka and James Harden continuing to improve, 2011-12 will be as good an opportunity as any, assuming they actually play the games.
Royce Young, Daily Thunder: Westbrook. With critics riding him over pretty much any shot attempt where Durant may or may not have been also open, Westbrook's going to have a lot of people hovering over everything he does. The best way to put all this manufactured controversy to rest is to play really, really well.
---
2. Who is the most intriguing player on the Thunder's roster?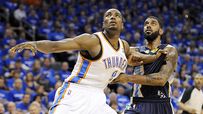 J.A. Adande, ESPN.com: Ibaka. He gave them a great defensive presence in the paint and some surprisingly effective offense last season. Imagine the threat he'll pose if he anticipates more than he reacts. (I'm also intrigued because he's a possible template for Charlotte's Bismack Biyombo, this year's most intriguing rookie.)
Graydon Gordian, 48 Minutes of Hell: Westbrook. While I'm fascinated to see whether Durant can reach a place where he's competing for MVPs and not just scoring titles, Westbrook is the Thunder superstar who's farthest from his ceiling. If Westbrook can improve his shot selection and tame his selfishness, the Thunder will vault from peripheral contender to Western Conference favorite.
Bret LaGree, Hoopinion: If Ibaka can become a reasonable third offensive option with the first unit, then Scott Brooks can continue to get away with playing more than one offensive black hole at a time in an effort to get the Thunder back to being the top-10 defense they were in 2009-10.
Danny Savitzky, Nets Are Scorching: Westbrook. Sure, Durant's skills and leadership are compelling storylines, but the far more fascinating narrative with this team is the apparent alienation of Westbrook from what was once considered an incredibly close-knit group. It will be interesting to see if Westbrook will be able to figure out how to share the ball in deference to Durant or if his selfishness will force general manager Sam Presti to send him packing for the good of the organization's chemistry.
Royce Young, Daily Thunder: James Harden. With the strong possibility that Harden starts an entire season at shooting guard, this could be a breakout season for the bearded one. He was a very good player off the Thunder bench after the Jeff Green trade, but now he should have the third scorer's role all to himself along with plenty of opportunities as teams try to cover Durant and Westbrook.
---
3. What's the most surprising take in Hollinger's Thunder profiles?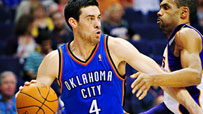 J.A. Adande, ESPN.com: That Nick Collison ranks among the elite players in plus/minus. Who knew? In Game 6 of the Finals Brian Cardinal showed the value of a player who can impact the game without touching the ball. Miami didn't have one of those. Oklahoma City does.
Graydon Gordian, 48 Minutes of Hell: Hollinger's criticisms of Durant. That's not to say his criticisms were unwarranted, or even that extensive. They were spot on. However, it's shocking to contemplate a world where Durant moves more effectively without the ball, is more comfortable being physical and passes more imaginatively. What's even more shocking is that world is just around the corner.
Bret LaGree, Hoopinion: It's not surprising to regular Thunder viewers but it is amazing that, as Hollinger points out, Kevin Durant scores so much and so efficiently without doing a good job of getting open.
Danny Savitzky, Nets Are Scorching: Calling Durant "terrible" at something. Hollinger very well might be right that Durant could improve appreciably at getting open; it's just odd to think that someone so remarkably skilled at various facets of the game could be that bad in one particular area. If he is right, I really do shudder to think what he could accomplish if he became adept at finding space off the ball.
Royce Young, Daily Thunder: "At times you feel like Harden is the only guy on the team who actually knows how to play offense." Sounds crazy when that offense includes Westbrook and Durant. But it's entirely true. Harden understands spacing, timing and flow as well as any player on the team. Westbrook and Durant are fantastically gifted offensive players, but Harden often looks like the smartest player on the floor when he's out there.
---
4. Based on Hollinger's profiles, what do the Thunder need most?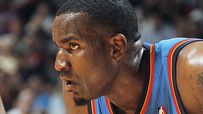 J.A. Adande, ESPN.com: A low-post scoring threat. They still don't have a guy they can throw the ball to in the paint who can get them a basket. Perkins shot a high percentage as the fourth option in Boston, but with the Thunder he made less than half of his shots. The good news is he looked good in a recent charity game, so that knee could be less of a hindrance next season ... whenever next season arrives.
Graydon Gordian, 48 Minutes of Hell: They don't need much, but if I had to pick I'd say a big man who can consistently score in the paint. While Perkins, Ibaka and Collison combine to make what could become one of the best defensive frontcourts in the league, a power forward who can score consistently from the low block would be a welcome addition.
Bret LaGree, Hoopinion: With Operation Zero Minutes For Jeff Green primed to provide a season-long (however long the season may be) boost, the Thunder just need to stop fouling so much. Hollinger dings two key rotation players, Harden and Collison, for the frequency with which they get whistled.
Danny Savitzky, Nets Are Scorching: Oklahoma City is such a complete team that it's really hard to pinpoint one area in which it's lacking something. But Scott Brooks should already be racking his brain as to how he's going to stop Dirk Nowitzki when the postseason comes around, as Dallas is as likely a Western Conference finals opponent as any other team at this point. The strategy of throwing about seven different defenders at him, including the helpless Thabo Sefolosha, clearly didn't work, so it will be fun to see what he comes up with.
Royce Young, Daily Thunder: Bench scoring. Honestly, there's not a whole lot to point to that the Thunder are needing. Scoring? Check. Interior defense? Check. Rebounding? Check. Strong bench veterans? Check. But OKC does lack a good scorer to play behind Durant, especially if Harden is moved into the starting five.
---
5. Would a shortened season help or hurt the Thunder?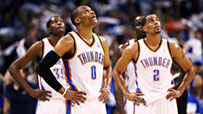 J.A. Adande, ESPN.com: Hurt. The Thunder need as many games as they can get. They're perpetually young like Justin Bieber. Six of their key players are under 25. The more experience they get, the more scenarios they play through, the better they'll be.
Graydon Gordian, 48 Minutes of Hell: Hurt. The Thunder must improve their off-the-ball movement and passing. As Hollinger said, despite all the scorers, sometimes it feels as if Harden is the only one who knows how to run an offense. But it takes time to learn the kind of spacing and ball movement the Thunder need, time a shortened season may not afford.
Bret LaGree, Hoopinion: Presumably, the best teams would want as many opportunities as possible to separate themselves from the merely above-average teams. The Thunder, though, might break even if a late start to the season means Perkins returns with two completely healthy knees.
Danny Savitzky, Nets Are Scorching: It probably hurts the Thunder. Oklahoma City has proved to be unspeakably durable over the course of the last few years. Simply put, the Thunder don't get hurt, and their young guys don't have much trouble keeping fresh legs late into the season. A shortened campaign lets older teams like the Mavericks and Lakers catch up to them in terms of staying conditioned, so the Thunder can't be too happy about losing that edge.
Royce Young, Daily Thunder: It doesn't. But that's just because a shorter season helps everyone. Veterans like Perkins may play fewer games. There's less of a chance for injury because there aren't as many opportunities to get hurt. A compact season with 60 or 66 games piled up could benefit OKC compared to a veteran team like San Antonio, but these are professional athletes -- they'll do what they have to do.


ESPN.com and the TrueHoop Network
J.A. Adande is a senior NBA writer for ESPN.com. Graydon Gordian, Bret LaGree, Danny Savitzky and Royce Young contribute to the TrueHoop Network.
• Follow ESPN's NBA coverage on Twitter | On Facebook