What will likely endure from Russell Westbrook's 2016-17 season is the history -- the relentless assault on two NBA marks that seemed unreachable and unthinkable: putting up 42 triple-doubles in a season while averaging one throughout.
But what Westbrook's season, and MVP campaign, was about was the moments. Unlike his closest competition, Westbrook didn't have an MVP moment or two. He filled an entire portfolio.
Let's take a trip through Westbrook's magical season:
---
Aug. 4, 2016: The extension
It felt coincidental at first: a news conference a month to the day after Kevin Durant announced his decision to leave the Oklahoma City Thunder and join the Golden State Warriors. But in hindsight, seeing the tension and subtle back-and-forth cold war that persisted between the two former teammates all season, it probably wasn't.
With a blue carpet rolled out and thousands of fans in attendance, Westbrook arrived in OKC on Aug. 4 -- a day officially declared by Mayor Mick Cornett as "Russell Westbrook Day" -- as the new, and solitary, face of the franchise. The devastation of Durant's departure was drowned away, at least for a day, by the jubilation of Westbrook's declaration. He talked of loyalty, he talked of commitment. He gave the Thunder a hope and a future, two things that 30 days earlier had all but been burned to ashes.
---
Oct. 26, 2016: The solo debut
The Thunder had walked off the floor with a gritty, tough road win in Philadelphia to open the season, and in the locker room after the game, most of the players were gassed. Everyone knew it would be a struggle without Durant, especially in the early going, but the difficulty and intensity of Game 1 didn't spell out encouraging things for the season.
Westbrook played his heart out, coming up with a flurry of big, fourth-quarter plays. One team staffer looked around the locker room and said, "I can't believe there's 81 more of these to go." There was some open curiosity if they could keep it up, to play with that kind of effort over and over. The staffer stopped and looked at Westbrook, who was carefully putting on a kilt and tying a yellow sweatshirt around his waist.
"Well, I know he can at least."
---
Nov. 3, 2016: Hello, old friend
To many in the Thunder organization, the two days on the West Coast in early November were the most important of the season. The team had started 3-0, somewhat of a surprise to most. But with a road game at Staples Center against the LA Clippers, followed by a trip to Oracle Arena to take on Durant and the Warriors a night later, the Thunder were headed for their first real test.
Westbrook slammed the door on the Clippers with a sequence of fourth-quarter plays, namely a stop-and-pop jumper over DeAndre Jordan to give the Thunder an early signature win. After it, Westbrook was asked about the surprise of such a start to the season.
Westbrook bristled.
"That's where they went wrong," Westbrook said defiantly. Twenty-four hours later, Westbrook was in Oakland, walking into the arena wearing a black headband and photographer's vest. With the tension and awkwardness percolating, he swatted a shot from Durant in the first quarter, and the Thunder held a brief, early lead. Durant caught fire shortly after, the Warriors' talent overwhelmed and they poured it on the Thunder from there.
But the Thunder came back to OKC feeling like they had a leader, and a chance. As the month rolled on, and with Westbrook averaging a triple-double through November, Thunder games quickly became must-see TV.
---
Dec. 23, 2016: Rise of an MVP
Westbrook, who racked up two separate streaks of seven consecutive triple-doubles this season, saw one of those runs snapped earlier in the month at the hands of the Celtics. He headed to Boston that night ready to put on a show.
Without second-leading scorer Victor Oladipo, who was out with a wrist injury, Westbrook fueled OKC's near-perfect offensive first half, highlighted by an 8-of-8 shooting start for rookie Domantas Sabonis. But it was the finish that really got people noticing Westbrook's MVP candidacy as he slammed the door in the fourth in vicious, ruthless fashion.
Westbrook scored 12 points in the final 90 seconds, the loudest being back-to-back 3s that were coated in cold blood. At the time, it was a seemingly epic triple-double, something Westbrook would normalize throughout the season: 45 points on 13-of-25 shooting, 11 rebounds and 11 assists, and a signature road win.
Those numbers are eye-popping, but the Thunder's offense completely tanked when Westbrook went to the bench this season. It was the team's primary struggle all year long; they just simply couldn't score without him. In fact, a Westbrook-less Thunder would have been battling the Philadelphia 76ers for worst offensive rating in the league in 2016-17. The other two MVP finalists -- James Harden and Kawhi Leonard -- saw their teams fare much better with their stars on the bench.
WESTBROOK WAS 'O' IN OKC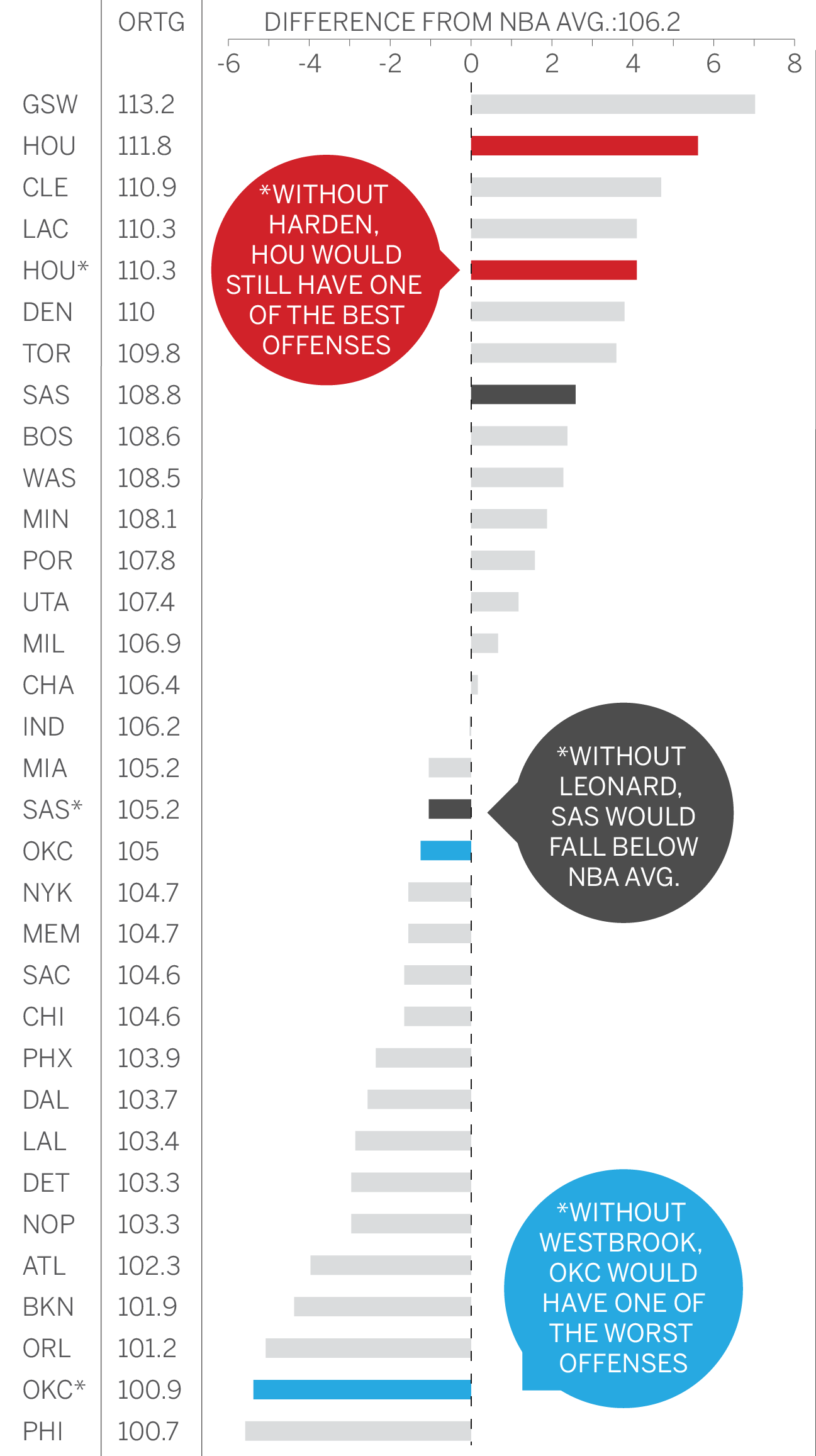 Jan. 23, 2017: Not on Russ' watch
Coming off back-to-back losses to good teams (Clippers and Warriors) -- both games noncompetitive -- it felt like the Thunder were on the verge of being exposed as a pretender in the West. There was talk of an unraveling, and a third straight blowout could prove there were too many questions for one man to answer.
Westbrook let his play do the talking.
Late in the game, Utah's Gordon Hayward hit a wing 3 with 10 seconds left on a well-executed, out-of-timeout set, and Billy Donovan elected not to advance the ball after a 20-second timeout. Westbrook glided up the floor, getting a high ball screen near half court from Steven Adams. Rudy Gobert sagged back in fear of a Westbrook rim attack, and Westbrook pulled what he calls his "cotton shot" -- a stop-and-pop 15-footer that was all net with a second left. Ship righted -- and, oh yeah, another triple-double: 38-11-10.
---
Feb. 11, 2017: The reunion show
This was it: the night Kevin Durant returned to Oklahoma City. And with the "cupcake" chants reverberating, the Warriors flexed their firepower, overwhelming the Thunder 130-114 as Durant was simply sensational, ripping out hearts with a brilliant second half.
But it was a flurry from Westbrook in the third quarter that had everyone buzzing, peaking as he jawed with Durant near midcourt, yelling, "I'm coming! I'm coming!" as Durant quipped back, "Yeah, but you're gonna lose."
Westbrook lost the game but, in the minds of many, won the popular vote. It was clear how isolated he was, dragging his team along alone -- a large part of his MVP narrative -- but Westbrook's third quarter harked to the advice Proximo gave Maximus in "Gladiator":
"Win the crowd, and you will win your freedom." Win the crowd, and you will win your MVP.
Westbrook finished with 47 points on 14-of-26 shooting, 11 rebounds and eight assists -- and 11 turnovers -- in 37 exhilarating, exhausting, try-hard minutes. Even in losing, Westbrook had his home crowd chanting his name and standing as he exited the floor. With so much attention on the game, nonpartisan viewers came away admiring Westbrook's competitive spirit.
---
March 27-29, 2017: Russ goes back-to-back
Two games as one, but, really, they go together. Coming off a head-to-head loss against James Harden, a game many billed a possible swing-vote game in the MVP race, Westbrook was falling behind. A media straw poll by the Washington Post had come out 10 days earlier and strongly favored Harden. Westbrook was great against the Rockets, but the Thunder weren't, and he was now 1-3 against Harden on the season.
The Thunder headed north up I-45 to Dallas, and with 3:31 left trailed by 13. It was going to be a bad loss to a bad team, and Westbrook's case was about to become completely about the stats over wins.
But then ...
With a ferocious dunk, Westbrook sparked a remarkable rally, a 14-0 run in which he scored 12 himself, including the game-winning shot with seven seconds left.
That led straight into what was set to be another ugly loss for OKC, a lame performance in Orlando two night later. After stealing a win in Dallas, Westbrook was at it again, bringing the Thunder back from 21 down in the second half against the Orlando Magic and forcing overtime with a wild, leaning 3-pointer with seven seconds left.
He scored or assisted on all 12 points in overtime, and OKC stole another one as Westbrook posted the most points ever in a triple-double: 57 points, with 13 rebounds and 11 assists. The MVP conversation was suddenly swinging back in Westbrook's favor.
---
April 9, 2017: History and heroics
When Westbrook broke Oscar Robertson's record for the most triple-doubles in a season, on a pass setting up Semaj Christon for 3 with 4:16 left, the Thunder trailed by 10. But with the Pepsi Center roaring for him, and history now out of the way, Westbrook set in on winning the game. He had scored the Thunder's last 12 points, and after a defensive stop and a timeout, the Thunder were taking the ball out on the side with two seconds left.
There's a commercial Westbrook has in which he cranks a 35-footer from the left side of the court as he voices over, "They say don't take shots you wouldn't take in the game." With the foreshadowing in place, and whatever play the Thunder were trying to run thoroughly busted, Westbrook took a pass from Steven Adams about 35 feet from the basket on the left side of the floor and launched.
With the ball in the air, it just seemed too good to be true, that on a day when he broke the seemingly unbreakable, with a road crowd chanting, "M-V-P" for him, that it would fall.
The picture tells the story, and as Westbrook exploded into the air with something like an 85-inch vertical that allowed him enough time to fist-pump and chest-bump simultaneously, Twitter was set ablaze with endorsements from fellow NBA stars rolling in one after the other, from Blake Griffin to CJ McCollum to Damian Lillard to Jamal Crawford.
In Westbrook's 80th game, he had a 42nd triple-double and his third of the 50-point variety. It was the culmination of a campaign, the perfect punctuation on a stunning season.
He wasn't an MVP candidate anymore. He was undeniable.
RUSS JOINS RARE COMPANY
Of the 41 MVPs since the 1976 NBA-ABA merger, Westbrook and Moses Malone are the only players to win the award after leading their teams to the playoffs as the No. 6 seed. Malone pulled it off for the 1981-82 Houston Rockets.
A look at the NBA MVPs since the merger shows how rare Westbrook's feat truly was: