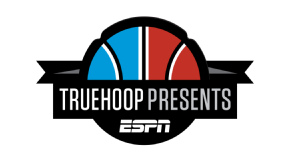 JOHN WALL IS fighting to stay awake through a haze of painkillers. Next to his bed is a walker to get himself to the bathroom. For longer distances, there's a wheelchair. His left knee is bandaged and recovering from having a bone spur removed from his kneecap, his right knee looks the same after a "cleanup scope." He is wearing a gown.
In the chair next to his bed is a coach he has never met before, who walked through his hospital room door a day after surgery.
"So John, let's say there's 37 seconds left and we're up two points and you've got the ball, what do you do?" he asks.
"Coach, are you seriously doing this right now?" Wall asks, eyes half open. "You take the two-for-one."
"Let's just say it's not ideal for you to meet a player for the first time when he's in a hospital bed," Scott Brooks would later say. He who flew to Cleveland to see Wall days after officially being hired as the Washington Wizards head coach last spring.
"And it's even less ideal when that guy is your All-Star point guard and he just had surgery on both knees. But that's where we were and that's where we got to know each other."
As the two speak, just out the window buds are opening on the trees lining Euclid Avenue as it cuts through the sprawling Cleveland Clinic campus. In the windows of nearby flower shops and coffeehouses are signs reading "All In," the Cavaliers' playoff rallying cry. Wall is in the heart of the NBA playoffs, in a city on the brink of escaping its demons.
And he is so far away.
---
WALL WAS THE first overall pick in the 2010 NBA draft, arriving on a Wizards team badly in need of hope. Michael Jordan's last comeback had provided false hope and the Gilbert Arenas era was drawing to a close after a suspension for bringing guns into the team's locker room.
Then-coach Flip Saunders called the Kentucky star "a point guard from heaven." The mayor of D.C. declared the day of his arrival "John Wall Day" in the capital. Reebok bet big, outbidding Nike to sign Wall to a five-year deal worth a reported $25 million (the guarantee was actually less) and the promise of a signature shoe.
It looked like Wall had followed the playbook to set himself up perfectly for the modern superstar career. But Wall's career has been a story of stops and starts, an upward trajectory that has taken some detours because of circumstance, happenstance and bad luck. He has earned acclaim and plenty of money, but not as much as he feels he should in either category. And it's sometimes left him temperamental, which has opened him up to critics.
"When things aren't going right you have your moments," Wall says. "You go home and you want to break something, you want to put your fist through a wall. Your family and friends have to be there for you and calm you down."
Wall put up good numbers from day one, his blazing speed with the ball instantly earning him attention. But he was a frequent target from critics because of a weak jump shot and inconsistent defense. He joined a team with a young core of Andray Blatche, JaVale McGee and Nick Young. In other words, not exactly the ideal incubation situation.
In his second season the team started 2-15 and Saunders was fired, and the savior label seemed to no longer apply.
At the start of his third season he was diagnosed with a stress injury in his left knee. He missed the Wizards' first 33 games, and the team lost 28 of them. Meanwhile, Reebok backed out of the signature shoe business and Wall's model was discontinued, which was just as well in some respects -- the shoe sometimes hurt Wall's feet enough that at times he stopped wearing it. He transitioned to Adidas, which owns the Reebok brand, but he lost exposure and traction.
When Wall returned from injury, though, he played fantastically, averaging 18.5 points and 7.6 assists in 49 games. In July 2013, the Wizards were quick to offer a five-year max contract worth $80 million. It was the ultimate reward, but in keeping with the theme, there was also an unlucky component; he signed his deal at the bottom of the market. Changes following the lockout in 2011 reduced the players' share in league revenues and as a result salaries mostly flatlined for a few years.
Wall backed up the decision when he played in all 82 games the year after signing the deal, made the All-Star Game for the first time and led the Wizards back to the playoffs. He vastly improved his jumper, making 35 percent of his 3-pointers, and started making strides as a defender.
In 2014-15, the Wizards finally attracted major national attention, thanks in no small part to the arrival of free agent Paul Pierce. In a nationally televised game on Christmas Day, Wall showed off with 24 points and 11 assists in a win at Madison Square Garden. Several weeks later Wall was voted as a starter into the All-Star Game. It looked like he was on the verge of superstardom.
The Wizards whipped the Toronto Raptors in the first round of the playoffs with Wall taking apart opposite number Kyle Lowry. They traveled to Atlanta for Game 1 of the Eastern Conference semis and stunned the Hawks to take a 1-0 lead, their momentum surging.
But near the end of the game, Wall landed awkwardly on his right wrist and suffered five tiny fractures. He missed the next three games. He struggled back with the help of numbing injections to play the last two games but he was a one-handed point guard and the Wizards lost in six.
Another step back.
"I think we would've swept [the Hawks] if I hadn't gotten hurt," Wall says. "They were nervous. They were scared of us. If we'd have made the conference finals it would've changed the big picture. Guys would've wanted to come here in free agency. It could've changed a lot of things for us."
Pierce left in free agency after the loss and the Wizards weren't able to replace him. That summer Wall became a shoe free agent, the deal he signed as a rookie ending. Adidas was in the market for a major star but they focused on stealing James Harden from Nike, giving him a contract reportedly worth up to $200 million.
"When things aren't going right you have your moments. You go home and you want to break something, you want to put your fist through a wall. Your family and friends have to be there for you and calm you down."

John Wall
Meanwhile, talks with Wall on a new deal broke down, and he became one of the league's highest-profile players without a shoe deal. This was after seeing point guard contemporaries Stephen Curry, Damian Lillard and Kyrie Irving land contract extensions and launch signature shoes with Under Armour, Adidas and Nike.
Player salaries were going up, too. Currently, Wall is the 50th highest-paid player in the league with no side income from footwear, either. He hasn't always handled it well.
"James gets paid, he gets $200 million. People say to me 'Are you mad?' No, James is my guy. I'm not mad. He came in at the right time, he had a great year and look at how he's playing this year. Bad luck again, I'm through the cracks."
With Pierce gone and Wall's backcourt teammate Bradley Beal among those dealing with injuries, the Wizards had a disappointing 2015-2016 season. Wall found that he couldn't work on his game as much as he wanted because sometimes it took an hour or more of treatment just to loosen him up enough to practice. Nevertheless he felt the burden to play, even as his health deteriorated. His left knee was becoming such an issue that the muscles around it were failing. His right knee was throbbing too.
"There were days I could barely walk," Wall says. "For the last few seasons I couldn't jump over a telephone book off my left leg. You can look at the film, all you'll see is me jumping off my right leg or two feet. I learned how to be effective doing it, but I wasn't myself."
By the final weeks of the season it had become unbearable. At the end of a five-game road trip, after a loss to the Clippers, Wall's left leg essentially shut down. The Wizards were still in contention to make the playoffs but Wall realized if he kept playing he wouldn't have been able to take part anyway. He missed the final five games of the season, his Wizards finishing 41-41 and missing the playoffs by two games.
Coach Randy Wittman was soon fired. And somewhere along the way the dream that Kevin Durant would consider his hometown team in free agency faded.
---
WHEN THE HAWKS take the court against the Cavs for Game 2 of last May's Eastern Conference semifinals, Wall is a surprise courtside spectator, watching the Cavs hammer Atlanta by 25 points. It is not a pleasure trip, though. Early the next morning Wall checks into the hospital, then holds up his phone to record a message.
"Just stick behind me, it's important. Stick behind me on this journey," he says to his fans in a tepid voice, just above a whisper.
"There were days I could barely walk. For the last few seasons I couldn't jump over a telephone book off my left leg. You can look at the film, all you'll see is me jumping off my right leg or two feet. I learned how to be effective doing it, but I wasn't myself."

John Wall
Soon after Dr. Richard Parker performs double-knee surgery, a cleanup scope on his right knee and a more extensive procedure to remove a bone spur from his left patella that had been causing increasing problems for years.
---
DURING HIS SECOND year in the league Wall showed a reporter from the Washington Post his pantry, which was filled with chips, cereal bars, oatmeal cream pies and other sugary treats.
"I got all the snacks. All I do is eat snacks," Wall said before admitting he ate only vegetables when his mother drove up from her home in Raleigh, North Carolina, to cook for him.
For the past few seasons Wall has carried more weight than was ideal. He says he was trying to add muscle but also admits he didn't stay in shape over the summers like he wanted to. It hadn't helped his knees and he knew it. Sometimes, he says, he could feel the heaviness weighing on them.
After last season, the Wizards hired Jesse Phillips to be their physical therapist. Phillips had worked with Wall in the past and Wall trusted him. Phillips hoped to get Wall down to 215 pounds, and challenged Wall to lose 15 pounds before he could. The loser had to do 350 pushups in an hour.
Wall has since given up red meat and now tries to eat fish and vegetables for as many meals as possible. Working out with Phillips, after a few weeks Wall hit 215 pounds flat. Phillips was 2.4 pounds short of his goal. So he hit the floor.
"He did them, I counted, all 350," Wall says. "I let him have a couple breaks."
That's just one part of Wall's recovery from surgery. The treatment and rehab, especially for the left knee, consumed up to nine hours a day over the summer. The memory of all those squats, and work with resistance bands, still makes Wall grimace.
He has made other changes, too. Recently, Wall changed agents and decided to streamline his focus, eliminating many appearances and deciding not to pursue a shoe contract for the time being.
At the start of training camp the 6-foot-4 Wall literally couldn't dunk. During the team's open practice at Virginia Commonwealth last fall, Wall just leapt and dunked for the first time, the adrenaline getting the best of him. By December, he had recovered enough to score 52 in a loss to the Magic.
Wall has lost a few more pounds since, and scouts now say he looks as fast as he has at any time in his career.
"I can't believe how fast he is at his size," says an Eastern Conference general manager.
"He could always move, but now he's learned the ability to change speeds," says one scout. "I'm not sure if its health or experience or what, but he thinks about his speed more and it makes him impossible to guard when he's in the open floor."
"One thing I've seen from John is that he can make great decisions while on the move," Brooks says. "He always knows where the other nine guys are on the floor. He thinks the game very well."
Last season, when Wall was jumping off one leg and not a healthy one, he ranked 54th in the league shooting in the paint. This season he has constantly been in the top 15 in the category, hitting nearly 55 percent of those shots, according to Synergy Sports.
Yet with a new coach and a new roster -- general manager Ernie Grunfeld rebuilt the bench in the offseason -- the Wizards limped out to a 2-8 start.
After their poor start, one of the Wizards' few national TV games, a game in Boston in early January in the heart of the All-Star voting season, had been stripped from the schedule.
"Nobody gets to see John Wall unless you have League Pass or sometimes on SportsCenter," he says. "I feel like my timing has been bad throughout my career. One thing I've learned, you don't get respect or notice unless you're winning in this league. That's right. But at certain times, you feel like you should be noticed. Some people get noticed when they haven't won really."
When the first batch of All-Star voting was released in December, the fans had Wall a distant seventh. He didn't get voted in, though the coaches made him an All-Star for the fourth consecutive time. The old feelings of insecurity started creeping back.
---
THE GOAL FOR every team in the East is to get a chance to legitimately challenge whatever team LeBron James happens to be on at the time. The Wizards used to -- they played him three straight times in the postseason from 2006-08 and twice took his team to six games. Die-hard fans who come to the Verizon Center still complain about uncalled travels from the 2006 series.
Wall is dragging the Wizards into position with the finest season of his career. He's averaging career highs in points (23), assists (10.4) and field goal percentage (46 percent). He was December's Player of the Month. He ranks fifth in the league in real plus-minus among point guards, right up there with the signature shoe gang that he's not a member of ... yet. The attention he has been getting is for his play, not a marketing campaign.
Over the past two months the Wizards have been the East's best team, going 24-7. They've won 11 of their past 12 and are riding a 17-game home winning streak. Monday they host one of the biggest regular-season games in recent memory when the Cavs and James visit, which was added to TNT's broadcast schedule a couple of weeks ago.
Wall is trying not to focus on the exposure he has long felt he deserved. Instead he drives his thoughts to be about his health and his team. He's both proud and aware -- two things that don't always go well together.
In November, he was ejected from two games in a three-day span. He was hit with a $25,000 fine for bumping an official. Then he was ejected when he drilled Celtics guard Marcus Smart with a flagrant foul because he was incensed with the referees. Two weeks ago he got fined another $15,000 after he traded menacing gestures with the Celtics' Jae Crowder.
"They'll find time to respect me," Wall said after the second ejection.
Wall got chippy with fans in his own arena last week after Lakers fans had filled Verizon Center to support the Lakers. After hitting a late 3-pointer to help clinch the win, he screamed "This is my city" to the crowd. Last season when the Lakers visited and the crowd cooed over Kobe Bryant, who'd just announced his retirement, Wall was heckled as he left the floor in his own building. Last fall, he was ripped locally because he wore a Cowboys jersey when he attended a Dallas-Washington game.
Those who know Wall well say he sometimes seethes as he lays in bed at night, upset at things both big and small. They also say it's because of his taste for competition, whether it's baskets, shoes or national television appearances. With healthy knees, the baskets are coming now. So are the national TV games.
"I do feel sometimes like I'm always trying to recover from something," Wall says. "Some things that have happened to me are rare and I've tried to learn to handle them the right way. At the end of the day, you are true to who you are."
"They'll find time to respect me."

John Wall
Wall is convinced he's going to get the last laugh on all of it. The salary, the shoe deal, the doubters. His play this season is backing it up. And he's not alone in believing in the future after a roller-coaster ride in the first part of his career.
"What you have to know is John is stubborn as hell," says Sacramento Kings star DeMarcus Cousins, who is one of Wall's closest friends and a former teammate at the University of Kentucky. "You know what, John's going to be just fine. Everything is going to come full circle for him, I truly believe that. Something great is in store for him."