Barclays Center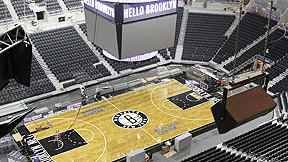 Barclays Center

620 Atlantic Avenue.
Brooklyn, NY 11217

Capacity

17,732
HISTORY:
Not since the Dodgers left for Los Angeles in 1957 had Brooklyn had a major pro sports team. That changed for the 2012-13 season, when the Brooklyn Nets took the court at the new Barclays Center in the heart of the borough. The Nets, founded in 1967, were an original franchise in the American Basketball Association, and played their first games in Teaneck, N.J. The Nets have long taken a back seat to the Big Apple's Knicks and most recently shared Prudential Center in Newark (2010-12) with the New Jersey Devils after a similar arena arrangement with the NHL franchise in the Meadowlands for nearly three decades. The Nets announced plans to move to Brooklyn in 2004.
Barclays Center, named after the Barclays banking and financial institution, is part of a $4.9 billion Atlantic Yards sports, entertainment and housing project. Barclays reportedly paid $400 million over 20 years for naming rights.
Barclays Center is home to major college basketball, including the Atlantic 10 Conference Championships, major concerts, family shows, such as Ringling Bros. and Barnum & Bailey Circus and Disney On Ice, and major championship boxing.
In addition to basketball and concerts, the NHL's New York Islanders, whose lease expires with the Nassau Coliseum in 2015, will call Barclays Center beginning for the 2015-16 season.
Did you know:
Rapper and Brooklyn native Jay Z designed the Nets brand identity, including black and white color scheme and logos, and inspired elements of Barclays Center. He also opened the arena with eight sold-out concerts.
The Nets have tried to fashion their own identity with a herringbone-pattern court, with the floor looking similar to one in a Brooklyn brownstone. The teams "BROOKLYNNETS.COM" is stamped in front of the home bench and "@BROOKLYNNETS", a reference to the official Twitter account, is positioned in front of the visitors' bench.
Brooklyn, with some 2.6 million residents the most populous of New York City's five boroughs, would be the fourth largest city in the country.
Sources: Barclays Center, Brooklyn Nets