Positive Reinforcement
AP Photo/Mark Duncan
LeBron James has a new point guard and scoring threat in Mo Williams.
The Cavs didn't make themselves over this summer. Still, LeBron likes his team's title chances. And with very good reason.
Brian Windhorst
Headlines
NBA Rumor Central


Boozer talks on hold?
With Portland signing Paul Millsap to a $32 million offer sheet, a proposed three-way trade that would have sent Carlos Boozer to Chicago has been sidelined.
Rumor Central
Hollinger's Stats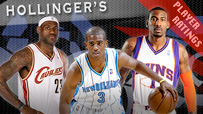 Who's performing the best in 2008-09? The worst? John Hollinger has numbers for every player.
Stats