Close Up: James Jones

Jones
Michael Wallace goes one-on-one off the court with the Heat small forward, whose All-Star break will include participating in the 3-point shootout in Los Angeles. Jones will also be working to avoid a potential 2011-12 lockout during collective bargaining agreement meetings as secretary treasurer of the players union. It's all in a week's work for the sharpshooter, who graduated with honors as a finance major from the University of Miami.
Wallace: People can debate whether LeBron James or Dwyane Wade is the Heat's best player. But when it comes to who has the most vital role off the court, your name has to be in the discussion, right?
Jones: It's a role I relish because at the end of the day we have different levels as players. Some guys have the talent to become superstars and help carry this league. But that's a lot of weight for them to carry. So when you have a situation like a CBA [collective bargaining agreement], they're overloaded. So someone has to step in there, get in there to do the dirty work, the nuts and bolts of what makes this league go. So I kind of look at myself as an extension of those guys because I'm not an elite player. But I get a chance to do everything I can to make sure we're all rewarded in this game.
Wallace: What would be more rewarding for you, personally, this weekend: winning the 3-point shootout to highlight a career of hard work or making at least some headway toward a new CBA?
Jones: That's a tough one, man. It would be best if I could do them both. It's a great honor to be invited to the 3-point contest. If I could win that to solidify myself as one of the 3-point champs, that's historic. But at the same time, it's also fleeting. The day after it's also over, we're back to trying to pursue a championship and trying to pursue a CBA deal so that next year is a reality. I was going to be in L.A. anyway to do some work on the league part. But I also get to go out there and compete for myself.
Wallace: With your background in finance, there might not be a better numbers man on the players' side in negotiations. Are you confident a deal will get done in time to avoid a lockout?
Jones: There's a lot more ground to be covered. The owners, their deals -- at least their proposals -- are ridiculous from our standpoint. And if they hold that hard line, then it's up to them. We're not going to accept that deal. So they'll lock us out. As a player, it's bittersweet because you want to play. This is our livelihood. By no stretch of the imagination will we ever consider something where we can't provide for ourselves and our families. But at the same time, it's in their hands. It's at their disposal whether or not they lock us out. From all indications, that's what they plan to do.
Wallace: You're more likely to relax in the locker room before a game by reading the Wall St. Journal or Business Week magazine than by donning headphones and blasting music. How does that approach, that different sort of perspective, relate to basketball for you?
Jones: The financial world is global. Long gone are the days when everything happened in America. Now everything is international. So you force yourself to see the big picture. In basketball, a lot of times you're trying to see where you fit. You have to be objective and think broadly. It's not as simple as, 'Will I play tonight, or will I not play?' It's about thinking, 'If I'm not playing tonight, what are other things I can do to help myself be prepared for an opportunity here today or somewhere else tomorrow?' You have to prepare, research and see the big picture in the finance world and in basketball.
LeBron-o-Meter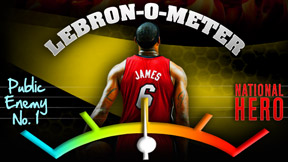 There's a swing in favor of LeBron's popularity this week. James still has his share of detractors, which won't change, no matter what he does on or off the court at this point. But the boos no longer sound as vicious on the road, and he's won some fans back over with his MVP level of play on the court. LeBron won't ever be a sympathetic figure, but the way he handled the heckler in Detroit who insulted his mother probably had more people backing James on that incident than bashing him.
Top 5 Coach of the Year Candidates

Popovich
1. Gregg Popovich, Spurs
The Miami Heat have gotten most of the hype. The Los Angeles Lakers remain in the headlines. But Popovich has found a solid supporting cast for Tony Parker, Tim Duncan and Manu Ginobili and has led the Spurs to one of the best starts in league history.

Thibodeau
2. Tom Thibodeau, Bulls
Take two top players away for the majority of two months from Phil Jackson, Erik Spoelstra, Doc Rivers or Rick Carlisle, and I doubt they would accomplish as much as Thibodeau has, in his first season no less, with the Bulls.

Collins
3. Doug Collins, 76ers
The prodigal son approach didn't work well when Mo Cheeks made the transition from beloved Sixers player to head coach. That's not the case with Collins, who deserves credit for restoring energy, passion and pride to a Philly team that is looking to lock up a playoff spot.

Williams
4. Monty Williams, Hornets
First there was the semi-trade demand from Chris Paul. Then, there was the unrest leading to the sale of the franchise. Williams, in his first season, has navigated through all of the distractions to lead the Hornets to the second-best home record in the West.

Spoelstra
5. Erik Spoelstra, Heat
Dealing with LeBron's ego, D-Wade's pride and Chris Bosh's initial discomfort with the system isn't easy. The combustible mix could have blown up in Spoelstra's face months ago. Instead, he stood firm and has won games and maintained the respect of his top players.