Bosh
Chris Bosh probably isn't looking forward to Sunday's visit from the Chicago Bulls -- or maybe he is. The last time Bosh faced them, he had one of the worst shooting nights in league history, going 1-of-18 from the field in the Heat's 93-89 loss on Feb. 24 at the United Center. Since then, he's shot a respectable 13-of-27 over the past two games. But that slump remains a sore subject for Bosh, who recently talked about coping with that horrendous game and examined the league's power landscape.
Question: After that tough night in Chicago, LeBron James said it was probably best that teammates didn't try to talk to you too much because you probably needed to be in your own thoughts. Is that true? And if so, how did you handle the recovery process from a night like that?
Bosh: It's nothing much that anybody can tell me. You know how it is, man. You write a couple of bad stories. You write a couple of bad ones, and what is somebody going to [say]? Keep writing. And you're like, 'Yeah, I know.' There are going to be bad days. Sometimes when it rains it pours. But inside, it's all about how you react. I was just trying to keep my composure.
Question: How much does anxiety grow with each shot you miss when you're in slump like that?
Bosh: Really? All that's going through your mind is, 'Man, I just really need to make a jumper.' Because at the end of the day, I know they're going to be open. I know I'm going to have to knock those down in order for us to be successful, in order for me to help this team out. I know they're going to be there all the time. I just need to knock half of them down. I just want to knock one down. I was figuring if I could just get one, I could get myself going a little bit. I was just trying to keep myself in the game, make no lapses on the defensive end. Offensively, I just think about the next play. I try not to think about how many times I missed it. It will hit you often enough. You think about what's next.
Question: With guys like Carlos Boozer, Amare Stoudemire, Carmelo Anthony and Deron Williams now in the East, what does that do in terms of a power shift to this conference?
Bosh: I think their switch over to the East Coast is good. One, for the conference and just for the competition. We're going to be tested a lot every night, and especially as the years go by there's no telling how good teams can get or who else is going to come over. So, I think it's good for us, it's good for the conference. Just to have an elevated level of competition is always good for the fans.
Question: You think Kobe Bryant will come over?
Bosh: No. I doubt it. That's mister L.A.
Question: How do you look at the league from the perception that the players have the power are taking over and controlling movement throughout the league?
Bosh: I think players have always had power. Does it really matter who's in charge and who's not? At the end of the day, if we stop playing, what happens then? I think it's just guys going where they want to go and realizing the power they have. There's nothing wrong with that. If you have the option, why not use it? It's just kind of been a unique situation where guys sign deals they want to sign and create flexibility for yourself. Sometimes as a player, all you have is flexibility. It's interesting how this has become this huge thing. But it's not a huge thing if a guy gets cut in the middle of the season and he's got mouths to feed and he's married and his mortgage [payment] is running out.
LeBron-o-Meter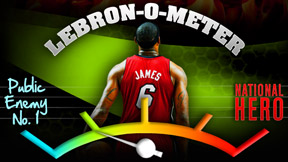 Just when you thought LeBron might be done with petty Twitter beefs, he launched himself right back into the middle of another mess. This time, it was a short-lived, teenaged, school-girl faux feud with former Cleveland Cavaliers teammate Daniel Gibson over a remark Gibson made in crowning himself the "new king of Cleveland" at a private party over the weekend with R&B singer and fiancée Keyshia Cole. King James took offense and tweeted his displeasure without actually mentioning Gibson's name. Although it was all later dismissed as a misunderstanding, it still reeked of insecurity and immaturity on LeBron's part. He took an unnecessary shot at Gibson and absorbed a completely avoidable beating in the court of public opinion on this one.
Top 5 Available Free Agents For Heat
With Mike Bibby now in the fold, here are five players still on the free-agent market who would be intriguing options for the Heat after recently negotiating contract buyouts.

Curry
Eddy Curry, C: Conditioning problems, injuries and off-court issues have prevented him from playing meaningful minutes the past three years. Pat Riley is a riverboat gambler when it comes to reclamation projects. This would be his biggest wager yet. Curry has reportedly told people in Chicago he'll eventually end up in Miami. I wouldn't rule anything out. But it's hard to buy this one.

Brewer
Corey Brewer, SF: It seemed like yesterday that Minnesota was pushing Brewer for the league's most improved player award. Now in his fourth season, the No. 7 pick in the 2007 draft is only 24 years old and still has plenty of upside. His athleticism and perimeter defense would be a perfect fit behind Dwyane Wade and LeBron. And he'd come cheap. This would be the next Dorell Wright-type project for Miami.

Powe
Leon Powe, PF: A bit undersized at 6-foot-8 and trying to work his way back into a meaningful role after knee surgery two seasons ago, there are legitimate questions about the former Celtics and Cavaliers forward. But Powe's toughness and rebounding intrigue the Heat. And after missing out on Troy Murphy, Miami could use an upgrade at the backup power forward spot until Udonis Haslem returns from foot surgery.

Thornton
Al Thornton, SF: Word is Thornton is headed to Golden State when he clears waivers. But the Heat should consider making a run at the former Florida State standout, who is still salvable as a gifted athlete and versatile scorer. Thornton is a capable defender who has underperformed, but defense is contagious with the Heat. Like Brewer, Thornton is relatively young and would come cheap at a position where Miami could use a spark off the bench behind Wade and James.

Butler
Rasual Butler, SG/SF: There's a "been there, done that" element with Butler, who before being traded in 2005 developed into a productive defender and shooter with the Heat during Wade's first two seasons in the league. Butler had the best season of his career in 2009-10, when he averaged 11.9 points and started 64 games with the Clippers. But he fell out the mix this season and played sparingly.