Now that the championship confetti has settled along Biscayne Boulevard, it's as good a time as any to try to put LeBron James' title run into perspective.
Here's the big question: Was James' playoff campaign, in which he averaged 30.3 points, 9.7 rebounds and 5.6 assists, the best ever in a championship season?
To answer that question, we'll need the trusty help of player efficiency rating, which tallies up box score contributions into an all-in-one metric that normalizes for tempo and maintains a league-average of 15. (Note: Turnovers, steals and blocks weren't recorded until the mid-'70s.) But like a box score, PER has blind spots on the defensive end. For that, we'll consult Dean Oliver's Defensive Rating metric, which estimates how many points a player's team allows every 100 possessions while he is on the floor. While DRtg isn't perfect, it does incorporate the team's defensive prowess, meaning it isn't completely blinded by steals and blocks. (As you look at the numbers, remember that DRtg is like a golf score -- the lower the better.)
We're rating only playoff performances that ended in a title, so James' mind-numbing 2009 postseason and Michael Jordan's 1990 masterpiece don't make the cut.
With all that out of the way, let's look through a statistical lens to see where James' 2011-12 title run ranks among the best we've ever seen.
10. Dwyane Wade, Miami Heat, 2006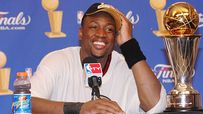 Wade may owe a few thank-you notes to James and Chris Bosh for helping him get his second ring, but the 2006 Finals MVP certainly earned his first one.
You can argue that Kobe Bryant deserves a spot in this top 10. But Shaquille O'Neal was no longer in his prime when he paired with Wade, and Wade's 2006 PER and field goal percentage top Kobe's bests in 2000-01, his personal best stretch that ended with a title. Wade may trail Bryant in total rings, but, statistically, his 2006 run holds the upper hand.
---
9. Michael Jordan, Chicago Bulls, 1996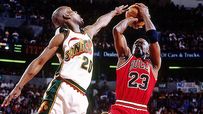 Other players have had stronger efficiency ratings than Jordan did in 1996, but his defensive contributions were stellar this time around. Jordan wasn't quite the scorer he was pre-Birmingham Barons, but he was still head and shoulders above the competition. The Bulls lost only three games in this postseason run after becoming the winningest team in regular-season history (72-10).
This wasn't Jordan's best statistical postseason, but other athletes would give an arm and a leg if they could finish a postseason with 30-5-4 averages. And we'll always remember this title run for Jordan's emotional embrace of the game ball after the Bulls' final victory over the Seattle SuperSonics in the Finals.
---
8. Hakeem Olajuwon, Houston Rockets, 1994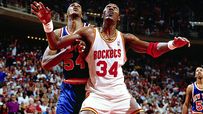 Considering the downward spiral of the center position, we may never see another postseason like this one. En route to his first title at age 31, Olajuwon totaled a postseason-best 92 blocks -- 13 more than the second most in history, Tim Duncan in 2003, and 16 more than his Finals nemesis that season, Patrick Ewing.
But it was so much more than a block party. Olajuwon dropped a nightly 27-and-9 against Ewing in a matchup of two of the greatest centers in the game at the time. Ewing shot a miserable 36.3 percent in the series, and Olajuwon became the first player to collect Defensive Player of the Year, MVP and Finals MVP awards in the same season.
---
7. Shaquille O'Neal, Los Angeles Lakers, 2001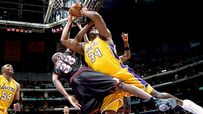 From a statistical perspective, Shaq was in the driver's seat during the Lakers' Finals runs more than Bryant was. Shaq posted bigger numbers than Kobe in each of their three-peat postseasons. Though Bryant will be remembered as the better scorer, it was Shaq who led the team in points even in Bryant's best postseasons.
Shaq bulldozed his way to the 2001 title much like he did the previous season, but his turnover rate spiked during his encore performance, which explains the almost two-point dip in PER. Because many felt his size was more responsible for his utter dominance than his skill, it's easy to forget that Shaq was a statistical juggernaut with few equals. He holds the two best PERs for big men in title-winning seasons. This is one of them.
---
6. Michael Jordan, Chicago Bulls, 1998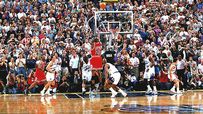 Jordan again? Get used to it.
No one will forget Jordan's iconic shot that silenced the Salt Lake City crowd in Game 6. That was just two of his 45 points in the title-clinching game, but it capped off another marvelous postseason from His Airness. Jordan's 1998 title run -- his last -- still haunts the Jazz organization to this day even though he wasn't the distributor or defensive ace he was earlier in his career. Jordan picked Karl Malone's pocket in the post in the final minute of Game 6, but his teams were better defensively in their earlier runs.
Still, few players have ever come close to Jordan's 28.1 postseason PER -- even though it doesn't crack his top three overall or his top two in title years. Jordan ended his title runs with a bang, but overall, he has done better.
---
5. Michael Jordan, Chicago Bulls, 1993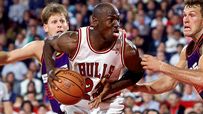 Charles Barkley felt Jordan's bitter wrath in this Finals campaign. After Barkley edged him out for the regular-season MVP, Jordan bested Sir Charles in the championship series by putting on a scoring clinic that included a 55-point outing in Game 4 amid a four-game streak of 40-plus points. Put it this way: Jordan clinched his fourth ring by scoring "just" 33 points in Game 6, which was somehow below his average during this postseason.
This was the last we saw of Jordan before he switched industries and became a professional baseball player. Though Jordan maintained he was chasing a childhood dream, it's also possible that he got bored of averaging 35-5-5 against the league's top competition. If this wasn't the Bulls' worst defensive title team, this performance might rank higher on the list.

---
4. Tim Duncan, San Antonio Spurs, 2003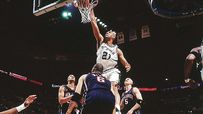 If you want to see what dominating on both ends of the floor looks like, turn on the 2003 Finals and watch Duncan go to work. Duncan was masterful in this postseason, but no one really talks about it (then again, when do people ever talk about the Big Fundamental?). A Spurs-Nets championship series may have induced drowsiness, but that's because Duncan put the Nets to sleep. How good do you have to be to average 3.3 blocks and 5.3 assists per game?
This stretch from Duncan remains the top Win Shares (5.9) performance in playoff history, but that has more to do with the fact that the Spurs played a whopping 24 games during their run, compared to, say, Jordan's 16 playoff games in 1990. Tough to rack up stats in games you don't play.
---
3. Shaquille O'Neal, Los Angeles Lakers, 2000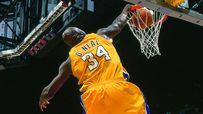 How come Shaq's 30.5 PER (the second-highest ever) doesn't find itself higher than James' latest run? Because O'Neal anchored one of the worst championship defenses ever. Despite winning the title, the Lakers ranked 13th at defense among 16 playoff teams -- astonishing considering they had a 7-foot-1 behemoth under the rim. Shaq has never been known for signature defensive contributions, but it's hard to overlook the defensive numbers of this Lakers squad.
Still, 30 and 15 on 56.6 percent shooting? Those are video-game numbers. Even with the laughable free throw shooting percentage, O'Neal was an efficiency monster in this run. Shaq capped off a dominant offensive postseason with a much-deserved Finals MVP.
---
2. LeBron James, Miami Heat, 2012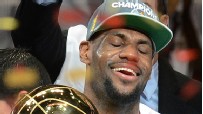 This is the best non-MJ Finals run of all time. James' PER ranks fourth in NBA postseason history, but there's no metric on the planet that can properly measure his do-it-all value defensively. James earned his "1-through-5" nickname from Erik Spoelstra for a reason; this might have been the most impressive defensive performance from a wing player ever. James guarded everyone, including Rajon Rondo, Kevin Durant and Tyson Chandler, in his pursuit of a title and never shied away from a defensive assignment.
Although his elite defensive rating reflects a portion of his defensive contributions, it simply doesn't account for his invaluable flexibility. He gets extra bonus points for that. Statistically, James could have been a tad sharper with the ball, from the free throw line and from downtown, but that's like complaining a Rolls Royce can't fly. If James polishes his perimeter shooting game, the top spot on this list is in jeopardy.
---
1. Michael Jordan, Chicago Bulls, 1991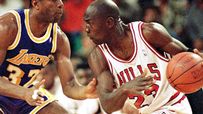 This is as close to perfection as we might ever see. For a guard to shoot 52 percent from the floor, dish out almost four assists for every turnover and shoot just about 40 percent from downtown is not just historical, it's bordering on supernatural.
One could argue that points per game should be the ultimate barometer, but the currency of basketball is efficient team scoring, not individual scoring. In 1991, Jordan did just about everything to help his team put the ball in the basket and prevent the opponent from doing so. Consider this: Jordan as a shooting guard averaged twice as many blocks as James did in the No. 2 campaign on this list. This is the best ever, but remember, folks, James is just 27 years old.
Honorable mentions: Magic Johnson, 1987; Bryant, 2001, 2009, 2010; Dirk Nowitzki, 2011; Olajuwon, 1995; Duncan, 2007; Larry Bird, 1984; O'Neal, 2002.