Juan Dixon
GUARD | (6-3, 165) | MARYLAND | COLLEGE STATS
Season Averages
YR
GMS
MIN
PTS
REB
AST
TO
A/T
STL
BLK
PF
FG%
FT%
3P%
PPS
2002
36
33.6
20.4
4.6
2.9
2.5
1.2/1
2.6
.2
2
.469
.898
.397
1.37
Season Totals
Rebounds
YR
GMS
MIN
FGM
FGA
FTM
FTA
3PM
3PA
PTS
OFF
DEF
TOT
AST
TO
STL
BLK
PF
2002
36
1209
251
535
141
157
92
232
735
49
117
166
104
89
92
7
72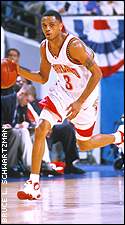 Notes: Juan Dixon broke out during the 2001-02 season to be named first-team All-American by the Associated Press, NABC, USBWA and The Sporting News. He was also a Wooden first team All-American, as well as the Final Four Most Outstanding Player and ACC Player of the Year. Dixon was also named to the ACC All-Defensive team and named ESPN The Magazines Shooting Guard of the Year.

During Maryland's championship run, Dixon tied a career high and marked a Terrapin best for the most points scored in a NCAA Tournament game as he registered 33 against Kansas in the national semifinals. He scored 18 with five steals against Indiana in the national championship game and averaged 25.8 points, 2.0 steals, 3.2 assists and 3.4 rebounds per game in the NCAA Tournament. He finished his career with a 54-game double-figure scoring streak.

For the second straight season, Dixon was a Naismith and Wooden Player of the Year awards finalist. He finished third in the balloting for the 2002 John Wooden National Player of the Year Award.

Dixon leaves Maryland as the school's all-time leading scorer with 2,269 career points. He is also the Terps' all-time 3-point leader with 239. The only Terp besides John Lucas to be named first team All-ACC in three straight seasons. Dixon is also the only player in NCAA history to have collected over 2,000 points, 300 steals and 200 made 3-pointers.

Dixon ended his college career ranked second in ACC history, second at Maryland and 12th in the NCAA with 333 steals. The outright winningest Terp ever with 110 victories, and never fouled out in 141 career games. Led the Terps in scoring 23 times as a senior and was the only Terp to score in double-figures in all 36 games of 2001-02.

As a junior, Dixon was a third-team All-American and first team All-ACC guard who averaged a team-high 18.2 points. Led ACC with 95 steals (2.64 per game); He was a three-time honorable mention All-American as a junior, sohpomore and freshman.

Dixon also led the USA with 19.3 points at the 2001 World University Games. His 24 steals broke the U.S. WUG record, previously held by Allen Iverson.

Positives: Dixon is a wiry combo guard who is deceivingly strong. His exceptional leaping and slashing ability along with his superb defensive skills have made him one of the top players in the nation. Dixon also has all the intangibles. Is a floor leader who isn't afraid to take the shot with the game on the line.

Negatives: Scouts say Dixon's lack of size and a natural position in the NBA kills him. He doesn't have the mentality to be a point guard and doesn't have the size or the consistent long-range jumper to play shooting guard.

Summary: Dixon's leadership during Maryland's championship run can't be questioned and has even made teams second guess their earlier evaluations of his pro potential. Before the Final Four, he was a second round pick at best. Now teams look at him as potential defensive stopper and a savvy scorer who could give key minutes off the bench. That may be enough for him to slip into the late first round.