Darius Songaila
FORWARD | (6-9, 245) | null | COLLEGE STATS
Season Averages
YR
GMS
MIN
PTS
REB
AST
TO
A/T
STL
BLK
PF
FG%
FT%
3P%
PPS
2002
34
30.5
17.9
8.1
2.6
3.5
1/1.3
1.3
.8
3.1
.523
.854
.375
1.56
Season Totals
Rebounds
YR
GMS
MIN
FGM
FGA
FTM
FTA
3PM
3PA
PTS
OFF
DEF
TOT
AST
TO
STL
BLK
PF
2002
34
1036
204
390
193
226
6
16
607
76
200
276
89
119
45
27
104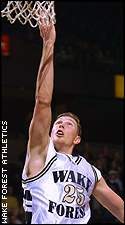 Notes: Darius Songaila leaves Wake Forest as arguably its best big man since Tim Duncan. Songaila posted 14 double-doubles as a senior and graduates from Wake Forest ranking in 10 different categories.

His 120 career starts rank second in Wake Forest history, as do his 130 games played. Songaila ranks fifth in free throws made (575), sixth in free throw attempts (692) and sixth in free throw percentage (.831), eighth in steals (141), eighth on Wakes all-time blocked shot list (96) and eighth in WFU career rebounding history with 813 boards. Songaila's 1,859 career points ranks ninth in school history.

Songaila was named to the ACC All-Tournament second team, the first Demon Deacon since Duncan was named to the first team in 1997. Songaila ranked fifth in the ACC in scoring (17.7 pg) and ranks 17th in ACC career free throw percent-ge (.829).

Positives: Songaila is great with his back to the basket and has the ability to put the ball on the floor and is a good pull-up shooter. Soft touch on his mid range jumper. Strong rebounder, good on the offensive glass. Good passer out of double teams. Exceptional hands in traffic.

Negatives: Songaila remains pretty slow-footed and isn't exactly an athlete. Commits an enormous amount of turnovers for a big man. Prone to foul trouble.

Summary: Songaila is an underrated low-post threat. Most teams like him and think he'll go pretty high in the second round. He's solid, fundamentally sound, and has shown the ability to put the ball in the basket.