Lynn Greer
GUARD | (6-2, 175) | null | COLLEGE STATS
Season Averages
YR
GMS
MIN
PTS
REB
AST
TO
A/T
STL
BLK
PF
FG%
FT%
3P%
PPS
2002
31
39.7
23.2
3.1
4.2
3.4
1.3/1
1.7
.2
2.1
.404
.873
.386
1.28
Season Totals
Rebounds
YR
GMS
MIN
FGM
FGA
FTM
FTA
3PM
3PA
PTS
OFF
DEF
TOT
AST
TO
STL
BLK
PF
2002
31
1232
226
560
172
197
95
246
719
19
78
97
130
104
52
5
65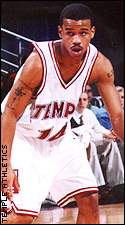 Notes: Greer ranks second on Temple's career scoring list with 2,099 points -- trailing only former NBA player Mark Macon. An honorable mention All-American as a senior, Greer is Temple's all-time leader in 3-point field goals made (305).

Greer was a Wooden Award finalist, as well as a Naismith Player of the Year candidate, in 2001-02. He led the A-10 in scoring as a senior and was ranked sixth nationally. Became the first Temple player in nearly 50 years to score 40 or more points twice in a season, including a career high 47 against Wisconsin. Greer was a member of the 2001 USA Basketball Men's University Games team that won a bronze medal.

Positives: Lynn Greer is one of the best scorers in the draft. Few players were able to carry a team the way Greer did this past season. He was simply sensational at times. Greer found ways to score, either at the 3-point line, inside or at the free-throw line. He has a passion for the game and is a winner. His defense isn't bad, either.

Negatives: Greer knew how to draw contact and finish. But the question remains can he physically take the pounding of the NBA and still convert. He's tougher than people think, but he'll have to convince teams that he can handle the size and strength of the league.

Summary: Greer has got a chance to get into the first round, but would be a steal in the second if he can't crack the first 28.