Kevin Lyde


Invalid request



Invalid request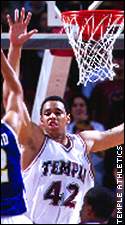 Notes: Lyde became the third player in Temple history to record 1,000 points (1,188) and 1,000 rebounds (1,006) in a career. Ranks second in school history in blocks (219). Named to the All-Atlantic 10 second team as a junior.

As a senior, ranked fifth in the A-10 in rebounding (7.8 rpg) and eighth in blocks (1.3 bpg). Had 12 double-digit rebounding games, including a season-high 15 against Massachusetts. Led team in blocks (43) and averaged 8.6 points. Posted five double-doubles and scored in double figures 14 times.

Tallied 13 points and 10 rebounds against eventual national champion Maryland. Grabbed 14 rebounds at St. Josephs. Scored a season-high 19 points vs. LaSalle. As a junior, started 34 of 36 games and led team in rebounding (8.9 rpg), blocks (1.9 bpg), finished second in field goal percentage (.515) and third in scoring (12.8 ppg). Led the nation in offensive rebounds (4.1 rpg). Scored in double figures 27 times, including four games of 20 or more points. Recorded 17 double-digit rebounding games, while leading the team in rebounding 17 times. Led team with 14 double-doubles.

Positives: Lyde is big, really big. He can rebound when he misses because he's so big. And when he's healthy, he's a force to move in the post. Lyde has had loads of potential throughout his career to be an immovable center. Temple was always better when he was effective but that wasn't often enough because of nagging injuries.

Negatives: Lyde rarely practiced because of his Achilles injury this past season. He needs to shed his oft-injured label for him to be an effective pro. He's so big that someone will take a chance on him, but there is concern that he doesn't have the stamina to last in the league.

Summary: Lyde should go in the second round because of his size. If he goes undrafted then he might be able to go to a team that could really use his size and strength.