John Salmons
FORWARD | (6-6, 207) | MIAMI | COLLEGE STATS
Season Averages
YR
GMS
MIN
PTS
REB
AST
TO
A/T
STL
BLK
PF
FG%
FT%
3P%
PPS
2002
32
33.7
13.1
6.0
6.1
3.7
1.6/1
1.8
.6
2.3
.461
.842
.310
1.41
Season Totals
Rebounds
YR
GMS
MIN
FGM
FGA
FTM
FTA
3PM
3PA
PTS
OFF
DEF
TOT
AST
TO
STL
BLK
PF
2002
32
1077
137
297
123
146
22
71
419
59
132
191
195
119
57
20
75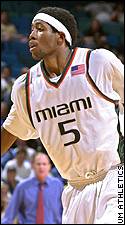 Notes: John Salmons is widely regarded as one of the most versatile players to ever play at Miami. A four-year starter, Salmons started 107 consecutive games -- the second-longest streak in school history. He leaves as UM's 13th-leading scorer with 1,287 points and third on both the all-time assists (433) and steals (192) lists. Salmons in the only Miami player to ever record 50 or more steals in three straight seasons and is the first player in UM history to surpass 1,000 career points, 600 rebounds (687), 400 assists and 150 steals (192).

Salmons led Miami to an 86-39 record during his four seasons, establishing a school record for wins in a four-year period. He was named second-team All-Big East in 2002 after starting all 32 games at point guard, but playing every position on the floor except center.

Positives: Scouts love Salmon's size for his position. He's a scorer and a slasher. He played the point and off guard and can play small forward, too. Salmon is one of the most versatile seniors in the draft. He didn't star at Portsmouth, but he was good enough to get noticed once again.

Negatives: Salmons is not a pure shooter nor is he a pure point. While the combo guard can be attractive to some teams, others want a pure position player. He's the type of player who could go in the second round or undrafted and end up lasting a long time in the league.

Summary: Salmons is likely in the second round with an outside shot at the first round if he is impressive in workouts. He has a chance to move up through a stellar Chicago camp.