Ryan Humphrey
FORWARD | (6-8, 233) | NOTRE DAME | COLLEGE STATS
Season Averages
YR
GMS
MIN
PTS
REB
AST
TO
A/T
STL
BLK
PF
FG%
FT%
3P%
PPS
2002
31
35.6
18.9
10.9
2.6
2.5
1/1
1.1
2.8
2.7
.489
.598
.500
1.24
Season Totals
Rebounds
YR
GMS
MIN
FGM
FGA
FTM
FTA
3PM
3PA
PTS
OFF
DEF
TOT
AST
TO
STL
BLK
PF
2002
31
1103
231
472
122
204
3
6
587
115
222
337
80
77
33
87
83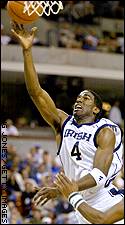 Notes: As a fifth-year player, Ryan Humphrey was a second team All-America selection by Basketball News and first team All-Big East selection. Humphrey averaged team-leading 18.9 points and 10.9 rebounds in 31 games.

Set Notre Dame single-season record with 87 blocked shots last season and his 2.77 career blocked shot average also set a new Irish mark. Finished his college career, which started at Oklahoma, with 1,633 points and 1,040 rebounds -- scored 997 during his two seasons at Notre Dame and grabbed 597 rebounds for Irish.

Last season, Humphrey ranked ninth nationally in rebounding and 18th in blocked shots with 2.81 blocks per game. Finished his senior season by recording double-doubles in 11 straight games and in 22 contests overall.

Positives: Humphrey ran the floor extremely well with Chris Thomas as his point man this season. He can finish and score in the middle of the lane. His rebounding improved as a senior and he's proven that he could get better over the course of his career. He went from Oklahoma to redshirting at Notre Dame to playing two seasons for the Irish. He's the product of good coaching and plenty of listening to better himself.

Negatives: He could use a signature move and scouts weren't thrilled that he skipped out on Portsmouth. Humphrey is still a talent, but can he score in the NBA as well as he did at times in college? That answer isn't clear.

Summary: Humphrey can move up -- in the second round -- through Chicago and workouts. Humphrey has his own destiny in his hands over the next month.