Preston Shumpert
GUARD | (6-6, 188) | SYRACUSE | COLLEGE STATS
Season Averages
YR
GMS
MIN
PTS
REB
AST
TO
A/T
STL
BLK
PF
FG%
FT%
3P%
PPS
2002
36
36.9
20.7
6.1
2.3
2.6
1/1.1
1.9
.4
1.7
.433
.818
.378
1.26
Season Totals
Rebounds
YR
GMS
MIN
FGM
FGA
FTM
FTA
3PM
3PA
PTS
OFF
DEF
TOT
AST
TO
STL
BLK
PF
2002
36
1329
256
591
144
176
88
233
744
69
149
218
83
92
68
16
61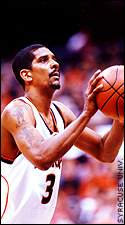 Notes: Preston Shumpert leaves Syracuse as one of the most productive Orangemen in school history. A two-time All-Big East first team player, Shumpert earned Associated Press Honorable Mention All-American honors as a senior and was named to the NABC First Team All-District 2 and USBWA All-District II. Shumpert was also a nominee for the John R. Wooden Player of the Year Award.

Shumpert completed his career ranked sixth in scoring at Syracuse with 1,907 points and he also established career marks for three-point baskets (249) and attempted (659). Shumpert put together a streak of 22 straight games with a 3-point basket, which began his junior year, was a school standard.

Shumpert set the single-season records for three-point baskets (88) and attempts (233). He tied his own single-game 3-point basket mark by converting eight against Albany last season. He averaged a team-leading 36.9 minutes per game and Shumpert became the first Syracuse player since John Wallace (1995-96) to average more than 20 points per game in a season. He led Syracuse in scoring 20 times as a senior and topped 20 points 15 different times. Shumpert scored in double digits in 35 of 36 games as a senior.

As a junior in 2000-01, Shumpert shared the Big East Most Improved Player Award with West Virginias Calvin Bowman. He joined Etan Thomas (1997-98) as Syracuse players who have won the award since its inauguration in 1996-97.

Positives: Shumpert is one of the better shooters in the draft when he's open. He made shots in Portsmouth and he has to do the same again in Chicago and workouts. He could be a specialist for a team if he can make a roster. But Shumpert has got to show he can do that consistently.

Negatives: Shumpert can score, but can he defend -- and can he do more with the basketball like consistently drive to the basket. Is he a two guard in the NBA or a small forward? He needs to show that he has the ballhandling skills to be more of a shooting guard.

Summary: Shumpert is a likely second-round pick because of his Syracuse career. He was one of the better 3-point shooters in college and that should bode well for getting a shot in the second round and having a chance to make a team.