Luke Recker
GUARD | (6-6, 210) | IOWA | COLLEGE STATS
Season Averages
YR
GMS
MIN
PTS
REB
AST
TO
A/T
STL
BLK
PF
FG%
FT%
3P%
PPS
2002
35
33.3
17.1
3.4
2.5
2.8
1/1.1
1.6
.4
2.5
.444
.885
.413
1.33
Season Totals
Rebounds
YR
GMS
MIN
FGM
FGA
FTM
FTA
3PM
3PA
PTS
OFF
DEF
TOT
AST
TO
STL
BLK
PF
2002
35
1164
200
450
108
122
92
223
600
27
92
119
88
97
56
13
86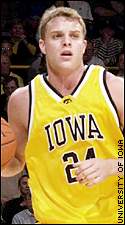 Notes: The road to this point has been full of twists and turns for Luke Recker, who started his college career at Indiana back in 1997; transferred to Arizona in 1999, but never played for the Wildcats after being involved in a serious car accident; then transferred back to the Big Ten and Iowa to play two seasons for the Hawkeyes.

Through it all, Recker scored 1,880 career points in four seasons, including 926 in two years at Iowa. Recker was an Associated Press honorable mention all-American in 2002 and third team all-Big Ten. Recker ranks second at Iowa all-time in 3-point field goals in a season (92) and in 3-point attempts in a season (223); ranks fourth in career 3-point field goals (149) and ranks fifth in career 3-point attempts (332).

Played in all 35 games last season, starting 32 and leading the Hawkeyes in scoring (17.1) and ranking third in rebounding (3.4). Recker shot 44.4 percent from the field, 41.3 percent from 3-point range and 88.5 percent from the free throw line. He led Iowa with 56 steals and was second in assists (88).

Named Indiana's Mr. Basketball as a senior back in 1997 and also to Parade Magazine and McDonald's All-America teams after he averaged 26.8 points, 6.8 rebounds and five assists per game as a senior. Led prep team to a 26-4 record and a berth in the Fort Wayne semistate final. Set school records for points (2,008) and assists (477).

Positives: Recker is a shooter. He can hit the long range 3-pointer and the mid-range jumper. He improved his baseline drive over the course of the season and continues to be a good scorer in the lane. He knows how to play and has been well trained after practicing under Bob Knight, Lute Olson and Steve Alford throughout his career.

Negatives: Recker's quickness will be questioned as well as his defense. There's no getting around the negative with Recker. Teams will knock it and won't get over it until he's on their roster. He played well in Portsmouth, but has to continue to crush the stereotype about his game in Chicago.

Summary: Recker has got an outside chance for the first round, but he's more of a second-round pick. It's really up to him. If he shoots well in workouts, especially against other players at his position, then he's got a chance to crack round one.