Aaron McGhee
FORWARD | (6-8, 250) | null | COLLEGE STATS
Season Averages
YR
GMS
MIN
PTS
REB
AST
TO
A/T
STL
BLK
PF
FG%
FT%
3P%
PPS
2002
36
28.1
16.0
7.7
1.1
1.4
1/1.4
.6
.8
2.6
.458
.822
.323
1.30
Season Totals
Rebounds
YR
GMS
MIN
FGM
FGA
FTM
FTA
3PM
3PA
PTS
OFF
DEF
TOT
AST
TO
STL
BLK
PF
2002
36
1010
203
443
148
180
21
65
575
104
174
278
38
52
21
28
95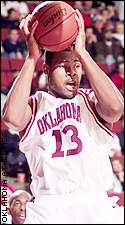 Notes: Aaron McGhee followed up his first-team All-Big 12 season by helping the Sooners reach the Final Four and showed why he was also named to the conference's All-Improved Team by averaging 21.8 points and 7.2 rebounds in five NCAA Tournament games.

McGhee scored 26 points and grabbed 12 rebounds in first-round win over Illinois-Chicago, tallied 25 points and five boards in second round versus Xavier, scored another 21 points and had eight rebounds against Arizona in the Sweet 16 and then helped propel the Sooners to Atlanta with 15 points versus Missouri. He scored 22 points and pulled down eight rebounds in national semifinals against Indiana. McGhee averaged 21.3 points and 9.3 rebounds in February, when he had nine double-doubles in final 18 games and 13 on the season. His 13 double-doubles were second most in Big 12 behind Drew Gooden. McGhee posted 10 20-point efforts in last 16 games and led OU in scoring in 10 of last 16 contests and in rebounding in 14 of last 17. McGhee ranked sixth in Big 12 games in scoring (17.4 ppg) and fifth in rebounding (8.1 rpg). Scored a season-high 27 points and grabbed 11 boards in overtime loss at Oklahoma State.

McGhee started his career at Cincinnati, where he played the 1998-99 season and averaged 2.8 points and 1.9 rebounds. He left Cincinnati to become a first-team National Junior College Athletic Association All-American in 1999-00 at Vincennes (Ind.) University where he averaged 26.5 points, 9.0 rebounds, 1.8 assists and 1.6 blocked shots per contest. Was named MVP of the 2000 NJCAA national tournament when he averaged 34.5 points per game as Vincennes went 32-5 and placed fifth in the national tournament. Set a Vincennes single-season scoring record (874 points).

Positives: McGhee works his tail off and helped Oklahoma earn a spot in the Final Four. He finds away to get to the basket and score. He can rebound and gets fouled often. McGhee was the MVP in Portsmouth and could end up as one of those draft picks who earns a first-round spot. He simply wont be denied around the basket.

Negatives: McGhee needs to prove that his size doesn't matter. His position is more of a power forward in college, but he might have to play more small forward because of his size at the next level. Can he make the 3-pointer or a deeper jumper? The answer is probably no, and he needs to show he can push his game further from the basket.

Summary: McGhee is a likely second-round pick but don't put anything past McGhee, who has earned everything he has received throughout his career.