Maurice Baker


Invalid request



Invalid request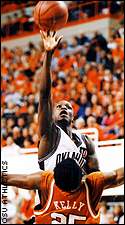 Notes: Maurice Baker finished his short two-year career at Oklahoma State with 967 points, three shy of the school top-25 list. Baker's career scoring average of 16.4 points per game is the fourth-best in OSU history and his 222 assists rank 15th on the career assists list.

A potent outside shooter, Baker's 39.1 percent shooting from 3-point range ranks ninth in school history and his .819 free-throw percentage ranks seventh. Baker was named third-team All-Big 12 by the Associated Press.

Before arriving at OSU, Baker was a first-team All-Scenic West Athletic Conference selection as a sophomore at Dixie CC and honorable mention NJCAA All-American after leading Dixie to a 22-11 record. Baker was named to the St. Louis Post-Dispatch All-Metro team after his senior year at Madison (Ill.) In high school, averaged 33.8 points and 12.4 rebounds in the seasonšs final 10 games and scored 50 points in the Trojans' regional first-round game.

Positives: Baker entered the season as one of the top guards in the country. He could score as a point or as an off-guard. He was even considered a potential draft pick last season. Scouts went to see him put up loads of points and weren't unhappy with his defense, either.

Negatives: Eddie Sutton said he hadn't seen a player be bothered from an injury as much as Baker was this past season. He never fully recovered and it hurt him throughout his senior season. He didn't play at Portsmouth, but he could have helped his draft status. He's expected to play in Chicago and he must if he still wants a shot at the first round.

Summary: Baker has first-round talent but he's got to prove it through workouts and Chicago. Unless he makes a dramatic turn upward, he'll be in the second round.