Chris Owens
GUARD | (6-5, 210) | null | COLLEGE STATS
Season Averages
YR
GMS
MIN
PTS
REB
AST
TO
A/T
STL
BLK
PF
FG%
FT%
3P%
PPS
2002
11
27.2
15.8
7.4
0.8
1.7
1/2.1
.7
1.9
2.5
.500
.627
.300
1.40
Season Totals
Rebounds
YR
GMS
MIN
FGM
FGA
FTM
FTA
3PM
3PA
PTS
OFF
DEF
TOT
AST
TO
STL
BLK
PF
2002
11
299
62
124
47
75
3
10
174
32
49
81
9
19
8
21
27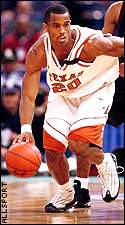 Notes: A preseason All-America candidate, Chris Owens who had his senior season cut short when he tore his ACL in his right knee during the Dec. 29 loss at Utah. He underwent successful surgery on Jan. 29. Owens was leading the Longhorns in scoring (15.8 ppg), rebounding (7.4 rpg) and blocks (21) at the time of his injury.

Ironically, Owens was named one of the top 30 midseason candidates for the John R. Wooden Award on Dec. 27 (just two days prior to his season-ending injury).

A preseason first-team All-Big 12 selection, Owens finished his career ranked third on the school's blocked shot list (159) and also finished his Texas career just 25 points shy of the 1,000-point plateau (975).

Positives: When he's healthy, Owens is one of the hardest workers in the draft. He's as fit as any player in the draft and as tough as anyone. He works the offensive glass as if it were his last minute playing ball. Owens' offensive game improved over the summer and he had legit first-round talent prior to the season.

Negatives: The torn ACL suffered in December means Owens is a question mark for next season. If he can show that his recovery is coming along at the right pace then he could be selected in the second round.

Summary: The injury clouds Owens' draft status. Teams aren't sure if they should take him with a pick, or try to get him in as a free agent. He still could return for a sixth season at Texas if the NCAA grants him a waiver because of his injury.