Steve Logan
GUARD | (6-1, 200) | null | COLLEGE STATS
Season Averages
YR
GMS
MIN
PTS
REB
AST
TO
A/T
STL
BLK
PF
FG%
FT%
3P%
PPS
2002
35
34.1
22.0
3.0
5.2
2.5
2.1/1
.9
0
1.8
.458
.873
.376
1.43
Season Totals
Rebounds
YR
GMS
MIN
FGM
FGA
FTM
FTA
3PM
3PA
PTS
OFF
DEF
TOT
AST
TO
STL
BLK
PF
2002
35
1195
246
537
192
220
86
229
770
10
95
105
182
86
31
0
63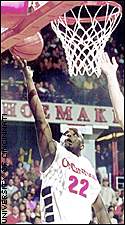 Notes: Steve Logan will be included as one of Cincinnati's all-time greats and Logans name dots the Bearcats' record book. The All-American played both point and shooting guards while at Cincy, but he's a long-distance scorer by trade.

Logan leaves Cincy as its No. 2 all-time leading scorer (behind Oscar Robertson) with 1,985 points and second in career assists with 456. As a senior last season, he set a new UC career record for free throw percentage (.861) and has two of the top four single season free throw percentages (.880 in 2000-01, .878 in 2001-02). He also set new UC career record for most victories (111) and games played (135).

In his senior season, Logan was C-USA's scoring leader and ranked among the nation's top 14 scorers. He topped the 20-point mark in 22 games this season and 39 times during his career, with eight 30-plus points games. Had seven or more assists in 13 games last season. Logan averaged 21.5 points over his last 56 games which included a streak of 52 straight games of double-digit scoring.

Logan was FOXSports.com and CNN/SI.com national player of the year and a consensus first team All-America selection by the Associated Press, Basketball America, Basketball Times, CNN/SI.com, ESPN.com, FOXSports.com, the National Association of Basketball Coaches, The Sporting News and the U.S. Basketball Writers Association. Logan also received the 2002 Frances Pomeroy Naismith Award as the nation's top player 6-foot or under. He was Conference USA Player of the Year for the second straight season and the Most Outstanding Player of the C-USA tournament. Logan also was a finalist for the Naismith, John Wooden and Oscar Robertson national player of the year awards.

Positives: Logan can flat out put the ball in the basket by either breaking his man off the dribble or pulling up and sinking the mid- to long-range jumper. A clutch shooter, Logan takes his team on his shoulders when the game is on the line. Decent leaper, great ball-handling skills, can find the open man. Good on-the-ball defender. Logan spent his first two years at Cincinnati as a distributor, so he can run the point. Built like a tank.

Negatives: Size, size, size. Logan is probably a lot closer to 5-foot-10. Some scouts feel he's really a two guard. Tries to do too much, which leads to questionable shots.

Summary: Logan is on the bubble for the first round. He's definitely made an effort this season to get his teammates involved. The more he can show scouts that he's capable of running a team, the better shot he has of sneaking into round one.