Jobey Thomas
GUARD | (6-4, 190) | null | COLLEGE STATS
Season Averages
YR
GMS
MIN
PTS
REB
AST
TO
A/T
STL
BLK
PF
FG%
FT%
3P%
PPS
2002
30
34.7
18.5
3.2
1.6
1.4
1.1/1
.9
0
1.2
.433
.899
.433
1.38
Season Totals
Rebounds
YR
GMS
MIN
FGM
FGA
FTM
FTA
3PM
3PA
PTS
OFF
DEF
TOT
AST
TO
STL
BLK
PF
2002
30
1041
174
402
98
109
110
254
556
20
75
95
47
43
28
0
37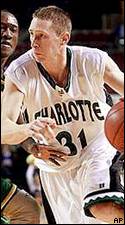 Notes: One of the best pure shooters in this year's draft, Jobey Thomas leaves Charlotte as the school's and Conference USA's all-time leader in career 3-pointers with 346. A first-team all-Conference USA selection as a senior last year, Thomas broke his own league record for 3-pointers made in C-USA games with 60 in 16 games (3.75 per game). As a senior, Thomas led C-USA in 3-pointers made for the third straight season and ranked second in 3-point percentage with a career-best .433 in 2001-02.

Thomas is Charlotte's seventh all-time leader in points with 1,737 and ranks fifth on C-USA scoring list. Thomas is just Charlotte's second player to reach 300 threes in a career and the second to reach 100 threes in a season (Henry Williams, '92 is the other on both counts).

Thomas also led C-USA in free-throw shooting for second straight year, hitting nearly 90 percent of his attempts. Thomas ranks second all-time in Charlotte's free-throw accuracy with a career 85.4 percent. He broke school career records for games played (130) and consecutive games played (130), which is to say he did not missed a game in his four-year career. Led the 49ers in scoring as a senior at 18.5 ppg.

Positives: Thomas was the best shooter on Charlotte during the season and hes one of the best shooters in a weak shooters draft. Thomas can get his shot off in traffic and put the ball on the court and hit the pull-up jumper. He's also good on the break for the transition jumper.

Negatives: Thomas needs to diversify his game. He needs to prove he can be a better defender. He has to show he's worth the look as a second-round pick. All of this will likely come out in workouts.

Summary: Thomas has a good shot to be in the second round. He's a good enough shooter that scouts will want him in camp for a look. Thomas is a player who could do wonders for his career during the summer league.