Kelly Wise
FORWARD | (6-10, 217) | null | COLLEGE STATS
Season Averages
YR
GMS
MIN
PTS
REB
AST
TO
A/T
STL
BLK
PF
FG%
FT%
3P%
PPS
2002
32
30.3
11.2
10.3
1.3
2.3
1/1.9
.9
1.6
2.3
.568
.565
.000
1.39
Season Totals
Rebounds
YR
GMS
MIN
FGM
FGA
FTM
FTA
3PM
3PA
PTS
OFF
DEF
TOT
AST
TO
STL
BLK
PF
2002
32
969
147
259
65
115
0
0
359
111
219
330
40
75
28
50
72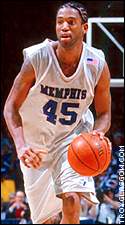 Notes: Overshadowed a bit by Dajuan Wagner last season, Kelly Wise was still the only player in Conference USA to average a double-double. Arguably the most important player on Memphis last season. When Wise played at least 20 minutes, Memphis was 26-5.

A nagging back injury, however, kept him out of the Tigers' Conference USA quarterfinal loss to Houston as well as the NIT first-round win over North Carolina-Greensboro. Wise came back to play in the Tigers final four games and had the game-winning basket, a dunk with 18.6 seconds to play, as Memphis defeated Temple 78-77 in the NIT semifinals en route to the NIT championship.

Wise was a top 50 preseason Finalist for the John Wooden Award and was a first-team all-Conference USA pick last year as a junior when he led the league in rebounds and was the only player in C-USA to average a double-double. Wise shot 56.5 percent from the field this past season to rank second in C-USA while his 1.6 blocks per game ranked fifth in the league. Wise averaged 11.2 points and led Conference USA with a 10.3 rebounding average.

Wise passed Andre Turner and Phillip "Doom" Haynes on the career scoring chart to finish with 1,487 points, eighth-most in Memphis history. And, with 1,075 career rebounds, Wise is one of only four players in Memphis history to have more than 1,000 boards -- joining Keith Lee, Forest Arnold and Ronnie Robinson. Wise ranks third all-time in rebounds at Memphis. His career rebounding number also set a Conference USA record as he passed Kenyon Martin (869) early last season.

Wise also broke the Conference USA double-double record of 35 set by Charlottes DeMarco Johnson and finished his career with 42 double-doubles.

Positives: Wise is a shot-blocker and a low-post scorer. He has shown that he can be a more effective scorer when he gets more touches. He played unselfish with Dajuan Wagner in the lineup. He's probably a better defender than he is an offensive threat.

Negatives: Wise was injured throughout his senior season and he needs to prove to teams that he's fine and worth the pick in the second round. He has to show that he can be more offensive minded or at least a defensive specialist.

Summary: Wise had first-round talent a year ago but his senior season wasn't as productive as it could have been because of his injuries and Wagner. He's still got a chance to stick in the league if he goes in the second round.