Frederick Jones
GUARD | (6-4, 209) | null | COLLEGE STATS
Season Averages
YR
GMS
MIN
PTS
REB
AST
TO
A/T
STL
BLK
PF
FG%
FT%
3P%
PPS
2002
35
31.5
18.6
5.4
3.2
2.3
1.4/1
1.8
.5
2.7
.521
.871
.372
1.57
Season Totals
Rebounds
YR
GMS
MIN
FGM
FGA
FTM
FTA
3PM
3PA
PTS
OFF
DEF
TOT
AST
TO
STL
BLK
PF
2002
35
1103
215
413
169
194
51
137
650
65
124
189
111
82
63
18
94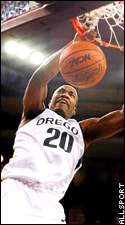 Notes: One of the most talented athletes to ever come out of Oregon, Jones leaves Eugene as the only Oregon player ranked in eight different career top 10 categories.

A Wooden Award finalist in 2002, Jones was the MVP on a Oregon squad that reached the Elite Eight. He scored more points in 2001-02 (650) than anyone in Oregon history, except Terrell Brandon (745 in 1990-91). Jones was a third-team All-American (Basketball Times) and named fourth-team All-American by both Basketball America and Associated Press.

As far as Oregon career rankings, Jones finished fifth in scoring (1,644 points), seventh in field goals (554), fifth in 3-pointers (147), third in assists (367), second in steals (148) and tied for fourth in blocked shots (74). He became the sixth Duck and 73rd player in Pac-10 history to reach 1,500 career points, and finished his career ranked 49th all-time in Pac-10 scoring.

Jones tied the Oregon single-season steals record with 63 (matching Brandons 1990-91 mark), which ranked third in the Pac-10 (1.8 per game), and set a single-season record for free throws with 169, breaking Brandons 1990-91 effort of 159.

Started 33 of 35 games and scored in double figures 32 times. Had a streak of 27 consecutive double-figure games heading into the NCAA Midwest Regional in Madison, before being held to four against Texas. Had 15 games of 20 or more points.

Positives: Jones is as athletic as any player in the draft. He has the hops to jump over a player and get a board or flush an offensive putback. He showed he could put the ball on the court and drive to the basket. He's also physically more mature and ready to leap to the NBA. He wasn't a year ago, nor was he as conditioned to win after going through a turnaround season at Oregon.

Negatives: Jones' outside shot isn't as consistent as it needs to be if he's going to be a true shooting guard. Jones has to develop more of a consistent perimeter game if he's going to stick around in the league. But he's been billed as coachable and should make the transition.

Summary: Jones has first-round potential and should be available for a team in the middle of the first round. If he slips to the second then a team will get a steal.