Matt Barnes
FORWARD | (6-7, 226) | null | COLLEGE STATS
Season Averages
YR
GMS
MIN
PTS
REB
AST
TO
A/T
STL
BLK
PF
FG%
FT%
3P%
PPS
2002
31
30.7
13.5
6.2
3.5
2.8
1.2/1
1.1
.3
2.4
.471
.619
.417
1.30
Season Totals
Rebounds
YR
GMS
MIN
FGM
FGA
FTM
FTA
3PM
3PA
PTS
OFF
DEF
TOT
AST
TO
STL
BLK
PF
2002
31
953
152
323
73
118
43
103
420
46
146
192
108
87
35
10
75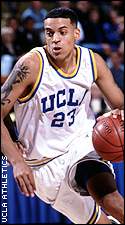 Notes: Matt Barnes emerged as a legitimate inside-outside threat for the Bruins last season, finishing second on the team in 3-point shooting and third on the team in scoring. He ranked in the top 10 in assists and 3-point shooting among Pac-10 players, and was among the top 20 Pac-10 players in scoring and rebounding.

In four seasons at UCLA, Barnes finished 13th in 3-point shooting accuracy (41.7 percent) and became the 43rd player in school history to score at least 1,000 points (1,066).

Positives: Barnes made himself an NBA player this past season. He put up monster numbers, eclipsing 30 points at times and showing he can score from all over the court. He could hit 3s, slash to the basket and convert at the free-throw line. Barnes played big guard or small forward, but he has the ball skills to be an NBA two guard.

Negatives: Barnes is still developing his game and it might not be polished enough for teams to feel secure about taking him too high. He didn't shine enough at Portsmouth to go in the first round, but he could secure a second-round pick in Chicago.

Summary: Barnes has a chance to be in the league next season and has the upside, if he stays with it, to get to the league even if he has to take a non-traditional route.