Dan Gadzuric
CENTER | (6-11, 248) | null | COLLEGE STATS
Season Averages
YR
GMS
MIN
PTS
REB
AST
TO
A/T
STL
BLK
PF
FG%
FT%
3P%
PPS
2002
33
26.2
11.7
7.7
0.7
1.6
1/2.3
.5
1.3
2.7
.554
.472
.000
1.30
Season Totals
Rebounds
YR
GMS
MIN
FGM
FGA
FTM
FTA
3PM
3PA
PTS
OFF
DEF
TOT
AST
TO
STL
BLK
PF
2002
33
865
164
296
58
123
0
1
386
92
163
255
23
52
18
42
89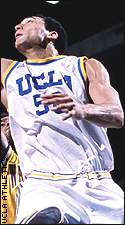 Notes: Dan Gadzuric leaves UCLA ranked among the school's top 10 in several categories, but will be remembered as one of the program's best shot-blockers and rebounders. Gadzuric ranks No. 2 all-time in blocks with 184 -- second only to Jelani McCoy's 188. Gadzuric is also the Bruins' eight-leading rebounder all-time with 896 boards in four seasons, while also ranking tied for eighth on the field goal percentage charts, shooting 54.9 percent in his career.

A preseason 2002 Wooden Award candidate, Gadzuric helped lead the Bruins to the Sweet 16 in the NCAA Tournament. He was an honorable mention all-Pac-10 player as a senior, recording nine double-doubles this past season and team-high 9.3 rebounds in conference play. Gadzuric ranks 26th in career points at UCLA with 1,287.

Positives: An enigma. Four years of college and NBA scouts are still talking about potential. Gadzuric has the athleticism and skill set to dominate in the post, but rarely does. Showed flashes of greatness versus Cincinnati in the tournament when he went off for 26 points and 13 rebounds.

Negatives: Has never lived up to expectations. Gadzuric has waxed hot and cold his entire career. Struggles in the post when he's double teams. An atrocious free throw shooter and a poor perimeter defender. Injury problems scare scouts off even more.

Summary: Gadzuric ending the 2001-02 season and his college career with a bang. He's the type of kid who works out well, so there's little doubt that his stock will probably rise as we get closer to the draft. Whether he'll ever get a great feel for the game ... that's the ultimate question.