Sam Clancy
FORWARD | (6-7, 240) | null | COLLEGE STATS
Season Averages
YR
GMS
MIN
PTS
REB
AST
TO
A/T
STL
BLK
PF
FG%
FT%
3P%
PPS
2002
32
37.6
19.1
9.4
1.7
1.7
1/1
1.7
1.5
3.1
.494
.624
.500
1.28
Season Totals
Rebounds
YR
GMS
MIN
FGM
FGA
FTM
FTA
3PM
3PA
PTS
OFF
DEF
TOT
AST
TO
STL
BLK
PF
2002
32
1203
236
478
138
221
1
2
611
98
204
302
53
55
55
47
99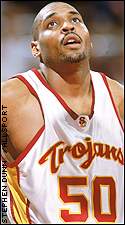 Notes: Sam Clancy is USC's all-time leading shot-blocker (195). He started 102 of his 113 games at USC. He finished third on USC's career scoring chart (1,657 points), second in rebounding (839) and fifth in steals (134). He had 35 career double-doubles and was one of only 10 Trojans ever to score at least 30 points in a game at least three times.

Clancy was the 2002 Pac-10 Player of the Year and a USBWA and Basketball Times All-America second teamer. The Naismith Award finalist started all four seasons at USC and as a senior led USC in scoring (19.1), rebounding (9.4), field goal percentage (.494), blocks (1.5) and was second in steals (1.8).

In Pac-10 games, Clancy tied for third in the conference in scoring (21.1) and second in rebounding (9.8). Clancy finished the season scoring in double figures in 28 consecutive games.

Positives: Clancy is extremely strong, and has an NBA body. Very strong low-post moves, great with his back to the basket. Has the ability to step away from the basket and sink the 18-foot jumper. A solid rebounder, very tough, and has great leadership skills.

Negatives: You'll get sick of hearing this, but if Clancy were two inches taller, we'd be talking lottery pick. But two inches is two inches. He doesn't have the shooting range or the ball-handling skills to play small forward and doesn't have the explosiveness or leaping ability to compensate for his lack of height at power forward.

Summary: Clancy declared for the draft last year and was the most impressive prospect in Chicago. It looked like he was a lock for the late first round, but he decided to go back to school and try to solidify his status. He's had another great year, but once again, the questions about his height and a recently dislocated left knee cap will continue to haunt him.