Jannero Pargo
GUARD | (6-2, 165) | ARKANSAS | COLLEGE STATS
Season Averages
YR
GMS
MIN
PTS
REB
AST
TO
A/T
STL
BLK
PF
FG%
FT%
3P%
PPS
2002
29
27.2
16.6
2.4
3.3
2.2
1.5/1
1.8
0
2.3
.460
.781
.432
1.34
Season Totals
Rebounds
YR
GMS
MIN
FGM
FGA
FTM
FTA
3PM
3PA
PTS
OFF
DEF
TOT
AST
TO
STL
BLK
PF
2002
29
790
165
359
57
73
95
220
482
17
52
69
96
63
51
1
67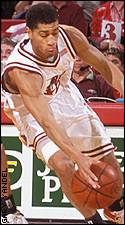 Notes: Jannero Pargo earned postseason honors from both the Southeastern Conference (third team, coaches) and the United States Basketball Writers Association (all-district VII). District VII includes all schools in Arkansas, Texas and Louisiana. Pargo led the Razorbacks in scoring (16.6 ppg), assists (3.3), 3-point shooting (.432) and free throw percentage (.781).

The two-time SEC player of the week ended his career fifth on Arkansas' all-time 3-point goals made list with 168 and second to Scotty Thurman (.432) on the all-time 3-point percentage chart (.425). In conference play, he set a school record with 52 three-point buckets while his 119 attempts tied the school mark. His .875 percentage (7-8) in the 94-92 overtime win over then-No. 4 Florida is a school record for a conference game and his .421 career percentage in SEC contests ranks fourth.

Pargo was a two-time SEC Player of the Week selection last season, recorded his fifth 30-point game of the season with his career-high matching 35-point performance at Mississippi State. He is the first Razorback to have five 30-point games in the same season since Todd Day in 1991. Pargo became the first Razorback since Joe Kleine in 1985 to have back-to-back 30-point games by following a 35-point effort against Florida with a 33-point effort at Alabama. Was nine of 19 shooting, including seven of 14 from three-point. Also had six rebounds, six assists and two steals.

Positives: Pargo is becoming more of a point guard in the offseason than he was at Arkansas. He put up 18 assists in a game at Portsmouth and really improved his stock. He can score and is becoming a better playmaker for the league. Now he needs to show that he can hit the long-range shot in workouts.

Negatives: Pargo hasn't been as consistent throughout his career, at least enough to warrant a first-round pick. He's talented and scouts see him as a second-round pick who could develop into a backup point guard in the league. That's where he has to concentrate his game at both ends of the court -- to be an NBA point guard.

Summary: Pargo begins the process as a likely second-round draft pick with the chance to move up in the second half of the draft through Chicago and workouts.