Udonis Haslem
CENTER | (6-8, 235) | null | COLLEGE STATS
Season Averages
YR
GMS
MIN
PTS
REB
AST
TO
A/T
STL
BLK
PF
FG%
FT%
3P%
PPS
2002
31
28.3
16.0
8.3
1.6
2.4
1/1.5
.9
1.3
3.1
.562
.694
.000
1.75
Season Totals
Rebounds
YR
GMS
MIN
FGM
FGA
FTM
FTA
3PM
3PA
PTS
OFF
DEF
TOT
AST
TO
STL
BLK
PF
2002
31
876
159
283
177
255
0
1
495
85
171
256
51
74
28
39
95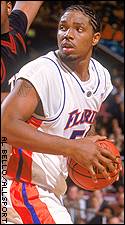 Notes: A four-year starter for the Gators, Udonis Haslem leaves Florida as the school's all-time winningest player after taking part in 97 Gator victories. Haslem is the first player in UF history to play on four consecutive NCAA Tournament teams and is only the second player in UF history to be named to one of the first three Associated Press All-America teams (joining Neal Walk). Haslem is also the first player in school history to be named All-Southeastern Conference by the league coaches four times (First Team in 2002 and 2001, Third Team in 2000 and 1999).

As a senior, Haslem was an AP honorable mention All-American and second team All-American by NABC. Haslem was a finalist for the 2001-2002 Naismith College Basketball Player of the Year Award, as well as a finalist for the Wooden All-American Team. One of three finalists for ESPN The Magazine Center of the Year after leading Florida in scoring for the second consecutive year. He also led the team in rebounding (8.3), double doubles (11), free throws (177), free throws attempted (255) and blocked shots (39).

Haslem leaves Florida third on the Gators' all-time scoring list with 1,781 points and ranks in the top 10 at UF in 11 career categories. Haslem is the Gators' fifth all-time leader in blocked shots (120) and second in starts (125) and tied for first in games played (130). Haslem is one of two players in school history to score 1,700 or more points and grab 800 rebounds. He did not miss a game in his career, seeing action in 130 games and finished his career with 99 consecutive starts -- with 99 double figure scoring games, including 26 20-point contests

Haslem is also Florida's all-time leader in NCAA Tournament action in games (12), scoring (157), field goals (56), field goals attempted (95), free throws made (45) and free throws attempted (66).

A wide body with good post moves and a soft touch, Haslem has the ability to seal defenders that makes him tough to stop one-on-one in the post. One of the hardest workers on the team, he dropped 40-plus pounds and reduced his body fat from more than 15 percent to 9.8 percent since his arrival in Gainesville.

Positives: Haslam is a worker and won't be denied around the basket. He has a mid-range game, can defend around the post and make free throws. He loves to work the offensive backboard and became a better passer over the course of his career. He made himself a player at Florida and scouts have been impressed by his work ethic.

Negatives: Haslam remains undersized and that could dog him into being a power forward who plays regular minutes in the league. If Corliss Williamson can be a success, why can't Haslam?

Summary: Haslam is probably a reach in the first round, but should be a cinch in the second round. He has had to prove he's better than his appearance throughout his career and this is nothing new.