Vincent Yarbrough
FORWARD | (6-7, 210) | null | COLLEGE STATS
Season Averages
YR
GMS
MIN
PTS
REB
AST
TO
A/T
STL
BLK
PF
FG%
FT%
3P%
PPS
2002
31
35.4
18.1
7.5
2.8
3.0
1/1.1
1.9
.8
1.9
.425
.687
.359
1.23
Season Totals
Rebounds
YR
GMS
MIN
FGM
FGA
FTM
FTA
3PM
3PA
PTS
OFF
DEF
TOT
AST
TO
STL
BLK
PF
2002
31
1096
194
457
112
163
60
167
560
70
164
234
87
93
58
25
60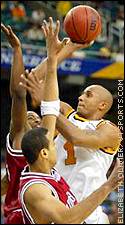 Notes: Vincent Yarbrough capped off his Tennessee career by earning all-SEC first-team honors by both league coaches and the Associated Press. Yarbrough was also a first team National Association of Basketball Coaches All-District 7 selection and earned All-District honors from the USBWA (District IV) and the NABC (District 7).

Yarbrough holds one school record and ranks among Tennessee's career leaders in several other categories. His 211 career steals are the most in school history, while he ranks among the schools career leaders in scoring (eighth; 1,737 points), rebounds (sixth; 862), blocks (seventh; 131), 3-pointers (fourth; 179) and 3-point attempts (fourth; 526). Ranked among the SEC leaders this past season in five different categories including scoring (second; 18.1 ppg), rebounding (sixth; 7.5 rpg), steals (ninth; 1.87 spg), 3-pointers made (10th; 1.94 per game) and defensive rebounds (fourth; 5.29 per game). Against SEC opponents, his 18.6 points ranked second in the league.

Yarbrough was a 2001-02 John R. Wooden Award candidate, marking the second time he is a preseason candidate for the award. Yarbrough tied a Rupp Arena opponent record with seven 3-pointers at Kentucky in February when he played one of the best games of his career against the Wildcats, turning in a season-high 27 points on a career-high 7-of-12 shooting from three-point range.

Positives: Yarbrough is one of the better slashing scorers in the draft. He stayed four years at Tennessee for good reason -- to get better. He did and he took control of an injury-riddled Tennessee team that was better than its record. Yarbrough is a hard-working talent who should find a role in the league.

Negatives: Yarbrough still needs to do one thing really well. He can score, but in different ways and he has to prove that he can play shooting guard and handle the ball like a point.

Summary: Yarbrough is another player who could sneak into the first round if he works out well and someone falls in love with him late in the first round. He's a lock for the second and should't be too discouraged if he slips into the land of no guaranteed money.