Jason Jennings
CENTER | (7-0, 250) | null | COLLEGE STATS
Season Averages
YR
GMS
MIN
PTS
REB
AST
TO
A/T
STL
BLK
PF
FG%
FT%
3P%
PPS
2002
30
28.1
14.6
6.6
0.9
1.9
1/2.2
.3
3.4
3.2
.567
.790
.000
1.46
Season Totals
Rebounds
YR
GMS
MIN
FGM
FGA
FTM
FTA
3PM
3PA
PTS
OFF
DEF
TOT
AST
TO
STL
BLK
PF
2002
30
842
170
300
98
124
0
0
438
63
135
198
26
58
10
101
95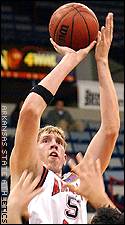 Notes: While Chris Marcus gained must of the publicity out of the Sun Belt Conference, the "other" big man in the area earned his share of honors last season. Jason Jennings was named the Sun Belt's Defensive Player of the Year and was also selected as an all-Sun Belt performer for the second consecutive year.

Jennings led the league in blocked shots (101) and became the first player in Sun Belt history to post two 100-block seasons. Jennings also reached double figures in scoring in 48 of 59 career games at Arkansas State, hitting the mark in 26 of 30 games as a senior. Jennings best game as a senior came against Denver, scoring a season high 29 points, hauling in 13 rebounds and blocking six shots.

Jennings leaves Arkansas State as the school's No. 2 all-time shot-blocker and tied for 11th in career field goal percentage (.547), tied for 11th in career scoring average (14.3), tied for tenth in career rebounding average (6.9) and 19th in career free throw percentage (.757).

As a junior, Jennings led ASU in scoring and rebounding, at 13.9 points and 7.1 rebounds per game. Jennings set a new school record with his 102 blocked shots on the season and posted ASU's first known triple-double, when he scored 31 points, grabbed 10 rebound and blocked a school record 11 shots against Morris Brown.

Jennings started his career at Arkansas, where he averaged 4.3 points and 2.7 rebounds as a sophomore in 1998-99. Jennings was named Arkansas' Mr. Basketball as a senior in high school.

Positives: Jennings is big and he's a scorer in the post. He's also a shot-blocker. NBA teams love big men in the draft. Jennings fits the profile of a player who should get a look, even though his low-post skills are far from polished. He didn't win the battles with Chris Marcus in the Sun Belt, but he held his own.

Negatives: Teams were turned off when Jennings declined to go to Portsmouth after originally agreeing to go to the event. Jennings could have helped his draft stock by dominating the games in Virginia. He must play in Chicago to help his stock.

Summary: Jennings is too big to be passed up in the second round -- but that's his likely destination. He'll have to play well in the summer league to stick on a roster.