Melvin Ely
CENTER | (6-10, 261) | FRESNO STATE | COLLEGE STATS
Season Averages
YR
GMS
MIN
PTS
REB
AST
TO
A/T
STL
BLK
PF
FG%
FT%
3P%
PPS
2002
28
35.6
23.3
9.1
1.8
2.6
1/1.5
.6
3.2
2.4
.563
.735
.000
1.49
Season Totals
Rebounds
YR
GMS
MIN
FGM
FGA
FTM
FTA
3PM
3PA
PTS
OFF
DEF
TOT
AST
TO
STL
BLK
PF
2002
28
997
246
437
161
219
0
1
653
90
164
254
50
73
17
89
67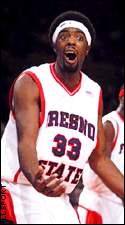 Notes: Despite eligibility issues that dogged him throughout his senior season, Melvin Ely was a Top 30 candidate for the Wooden Award and All-America honors; was named the WAC Player of the Year for the second straight season; and became Fresno State's all-time scoring leader with 1,951 points, which ranks 13th in WAC history. Ely also ranks second on the Fresno State charts in rebounds with 924.

Wise is the first player to win WAC Player of the Year in consecutive years since Utah's Keith Van Horn did it in 1994 and 1995. His 362 career blocked shots is a Fresno State record and ranks second in WAC history. Wise led the WAC in scoring and ranked fourth in the NCAA at 23.3 points per game.

Ely also had an outstanding performance for Team USA in the 2001 World University Games in China, averaging 10.5 points and a team-high 6.3 rebounds per game. He shot 61.9 percent from the floor and led the U.S. team with 11 blocked shots. Ely led the team in scoring with 19 points against South Africa.

Ely was named to the all-region team for the second straight season and was named to the Basketball Time All-West team. He finished his career ranked 11th in WAC history in field goal percentage (.577), and his 25.6 ppg in WAC games is the 14th-best in league history.

As a junior, Ely played in and started all 33 games, leading the conference in field goal percentage and blocked shots as well as ranking fourth in scoring and rebounds. He was Fresno States leading scorer at 16.0 per game and leading rebounder at 7.5 per game.

Ely earned All-America honors from McDonalds, Parade (first team), Basketball Times (second team) and Basketball Weekly (second team) at Thornton Township High School (Harvey, Ill.) as a senior in 1997. He averaged 15.5 ppg, 9.3 rpg and 5.2 bpg during the regular season and was named the Chicago Sun-Times player of the year and first team all-state.

Positives: Ely's up-and-under move should make him lots of money. He can score in the post, increased his range to 15 feet and beyond and can work the offensive glass. He went back to school for a fifth season, his fourth year of eligibility, and he actually got better. Ely is a classic example of a player who is maturing along with his body. He should have a lengthy career.

Negatives: Ely has the moves, but will he be a dominant scorer? Probably not. He can be a player who will be productive when he's out on the court, but not the center of an offense. He has to get onto the right team and be patient. He was frustrated at times early in his career when he wasn't the first option.

Summary: Ely could really jump up in this draft. He's projected to go somewhere in the middle of the first round but he could push the back end of the lottery if he does well in workouts.