Randy Holcomb
FORWARD | (6-9, 222) | null | COLLEGE STATS
Season Averages
YR
GMS
MIN
PTS
REB
AST
TO
A/T
STL
BLK
PF
FG%
FT%
3P%
PPS
2002
33
32.3
16.9
9.0
1.7
3.5
1/2
.7
1
2.5
.516
.635
.300
1.31
Season Totals
Rebounds
YR
GMS
MIN
FGM
FGA
FTM
FTA
3PM
3PA
PTS
OFF
DEF
TOT
AST
TO
STL
BLK
PF
2002
33
1067
220
426
106
167
12
40
558
88
208
296
57
116
24
32
83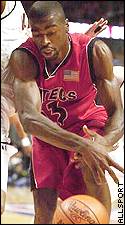 Notes: Randy Holcomb started his college career at Fresno State, then landed in the junior college ranks for a season, before helping Steve Fisher build San Diego State into a NCAA Tournament team last season.

Athletically gifted player who played both forward positions for the Aztecs. Holcomb was heavily recruited out of both high school and junior college. Labeled as one of the top two NBA prospects in the Mountain West Conference according to The Sporting News. Started all 61 games at San Diego State after transferring from L.A. City College. Led San Diego State to a 35-26 record in his two seasons when the Aztecs posted a 9-45 record the two years before his arrival.

Holcomb helped San Diego State advance to the NCAA Tournament in 2002 for the first time since 1986. He was named the MWC tournament MVP, and led the league in rebounding and finished fourth in scoring.

In his two seasons at San Diego State, Holcomb recorded 19 point-rebound double-doubles (also recorded one double-double while at Fresno State), led SDSU in rebounding 40 times, in scoring 31 times and in assists seven times. Had 63 double-figure scoring games in his career, 56 came while at San Diego State. Career SDSU ranks: 19th in scoring (1,002), tied for 10th in blocked shots (51), tied for 9th in career starts since 1978-79 season (61).

Positives: Holcomb is an athlete. He can jump. He can score around the basket. He has range. He can block shots and he's a definite sleeper. Holcomb is a rising, raw talent and he proved he could get better over the course of five seasons. He wasn't recruited when he signed with Fresno State. He was a throw-in with Melvin Ely and became a star at San Diego State. That alone should help his draft stock.

Negatives: Holcomb doesn't have a signature move and he's still a tweener. Scouts aren't sure where he would play on the court. They're also questioning just how good a scorer he could be in the NBA.

Summary: Holcomb helped himself in Portsmouth, but needs to do more in Chicago and in workouts to get into the second round. He should make a summer league team at the very least and have a shot to be in a camp in the fall.