Dan Dickau
GUARD | (6-0, 170) | null | COLLEGE STATS
Season Averages
YR
GMS
MIN
PTS
REB
AST
TO
A/T
STL
BLK
PF
FG%
FT%
3P%
PPS
2002
32
34.7
21.0
3.0
4.7
2.9
1.6/1
.8
.1
1.9
.441
.864
.457
1.52
Season Totals
Rebounds
YR
GMS
MIN
FGM
FGA
FTM
FTA
3PM
3PA
PTS
OFF
DEF
TOT
AST
TO
STL
BLK
PF
2002
32
1110
195
442
165
191
117
256
672
15
81
96
149
92
26
4
61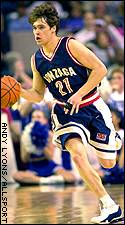 Notes: Dan Dickau became the first player in Gonzaga history to earn All-American honors, being named to the first team in 2002, as well as being the first Bulldog to be among the top five in John R. Wooden Award balloting. Dickau was also a Naismith Award Finalist for Player of the Year after leading the Zags back to the NCAA Tournament for the third straight year.

In just three seasons after transferring from Washington, Dickau leaves Gonzaga with 299 career assists, which ranks seventh on the all-time list. He also became the 23rd member of the Gonzaga 1,000-point club with 1,125 to rank 16th. Add in his Washington numbers and he put up 1,290 career points and handed out 366 assists.

Dickau was named MVP of the West Coast Conference Tournament, after earning the award for the regular season. Dickau played for Team USA at the World University Games last summer -- a team that won a bronze medal in Beijing, China. He averaged 4.8 ppg, 1.3 rpg, and 1.1 assists in China.

Positives: Relentless. Dickau is a top-notch shooter and playmaker. Difficult to guard because of his ability to sink the jumper or take it to the hoop. Very active on the offensive end; is deceptively quick. Dickau does have NBA-range on his jumper and the ball-handling skills to get his teammates involved. His game definitely has a flair to it.

Negatives: Dickau is a pretty weak defender. Will he give up more points than he scores in the pros? Doesn't seem to quite have the knack that other WCC alums (like John Stockton and Steve Nash) have for making his teammates better and coming up with the big play.

Summary: Dickau will continue to be one of the most hotly-debated players in the draft. Will benefit from the success of players like Nash and Andre Miller. Some scouts feel he has the potential to land in the late lottery with good workouts. Others say there are enough question marks that he could slip all the way to the bottom of the first round. No one doubts his ability to score, but whether he can run a pro offense? The jury is divided.