Tayshaun Prince
FORWARD | (6-9, 212) | KENTUCKY | COLLEGE STATS
Season Averages
YR
GMS
MIN
PTS
REB
AST
TO
A/T
STL
BLK
PF
FG%
FT%
3P%
PPS
2002
32
33.3
17.5
6.3
1.6
2.0
1/1.2
1.1
1.3
1.6
.467
.703
.340
1.27
Season Totals
Rebounds
YR
GMS
MIN
FGM
FGA
FTM
FTA
3PM
3PA
PTS
OFF
DEF
TOT
AST
TO
STL
BLK
PF
2002
32
1065
206
441
83
118
65
191
560
67
135
202
52
64
34
43
51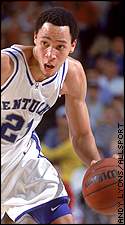 Notes: Tayshaun Prince came back for a senior season that ended with him being named first-team All-SEC by the Associated Press and league coaches. Prince was also second-team All-American by the NABC and third-team All-American by the Associated Press.

Prince was the only Wildcat to start every game in 2002, leading UK in scoring (17.5 ppg) and rebounding (6.3 rpg). Ranked third in the SEC in scoring and tied for 10th in rebounding. His highlight reel game came against Tulsa in the NCAA Tournament, where he poured in 41 points on 14-of-21 shooting. Prince was 6-of-8 from 3-point range and added nine rebounds, four assists, three blocks and didn't turn the ball over in 37 minutes. It was the most points scored in the NCAA Tournament this past season and he averaged 23.7 ppg in the three NCAA Tournament games.

Prince finished his career with 1,775 points, placing him seventh on the UK list. Also finished second at UK in made and attempted 3-pointers and fifth in blocks. Named SEC Player of the Week twice during the 2001-02 season. Dominated North Carolina, scoring UKs first 15 points with threes on five straight possessions. Posted seven first-half 3-pointers, tying the school record for threes in a half, en route to tying his then-career-high 31 points. Added 11 boards.

Started the year as a first-team AP preseason All-American after being named second-team All-American by the AP and the USBWA as a junior. He also made the 10-member Wooden All-America team in 2001. Swept AP and coaches 2001 SEC Player of the Year honors. Made first-team All-SEC in both polls.

A McDonalds All-American out of Dominguez High School, Prince led his team to a 96-9 (91.4%) record during his three seasons, including the 1997 California state championship during his junior year. Finished his prep career as a finalist for the Naismith Prep Player of the Year Award and was voted a second-team Parade All-American. Also won the George Yardley Award from the L.A. Times as the best player in Southern California, joining a list that includes Baron Davis and Paul Pierce.

Positives: Prince is a good ball hander and pretty quick for his size. Uses his quickness to slip around bigger defenders in the post. Very smooth. Nice hops. Has the ability put the ball on the floor and penetrate to the basket. However, he usually settles for jumpers with varying degrees of effectiveness. Has a seven-foot wing span.

Negatives: It's time Prince put on some muscle. He's still incredibly thin. Not a bad outside shooter, but streaky. Scouts worry about Prince's shot release. He's got a very slow release that leads to a lot of blocked shots. Scouts thought he'd have a much harder time getting his jumper off at the pro level.

Summary: Prionce must make the transition from power forward to small forward in the pros. Prince's production has dipped when he's moved from power forward to the three. If Prince can't get off his own shot, he's in trouble at the next level.