Lonny Baxter
FORWARD | (6-8, 260) | null | COLLEGE STATS
Season Averages
YR
GMS
MIN
PTS
REB
AST
TO
A/T
STL
BLK
PF
FG%
FT%
3P%
PPS
2002
35
28.7
15.3
8.2
0.8
2.2
1/2.7
.9
2
2.9
.546
.623
.000
1.51
Season Totals
Rebounds
YR
GMS
MIN
FGM
FGA
FTM
FTA
3PM
3PA
PTS
OFF
DEF
TOT
AST
TO
STL
BLK
PF
2002
35
1005
194
355
147
236
0
1
535
80
208
288
28
76
33
69
103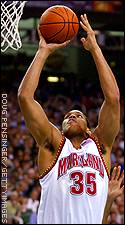 Notes: As a senior, Lonny Baxter was named the NCAA Tournament's East Region Most Outstanding Player in addition to Final Four All-Tournament, John R. Wooden All-America, AP honorable mention All-America, second team All-ACC and ACC All-Defensive team honors. He was a finalist for the Naismith and Wooden national player of the year awards as both a junior and senior.

Baxter finished his career second to Len Elmore (1,053 from 1972-74) with 998 rebounds. Also finished his tenure ranked sixth all-time in Maryland scoring (1,858 points).

During the 2001 NCAA Tournament, Baxter was named the West Regionals Most Outstanding Player. As a sophomore, he was All-ACC first team selection who averaged 15.6 ppg and 8.8 rpg. Baxter was an honorable mention ACC All-Freshman selection who averaged 6.8 ppg, 3.6 rpg.

Help lead USA Basketball to a bronze medal at the 2001 World University Games, leading the club with 6.3 rebounds and was second in scoring to Juan Dixon with 15.0 ppg.

Positives: Baxter is a low-post banger with a wide body and soft shooting touch. Is pretty quick for his size and a nice mid-range jumper to go along with a wide variety of low-post moves.

Negatives: Size, size, size. Baxter must make the transition to power forward in the pros. Scouts fear he's closer to 6-7. Doesn't have the quickness nor the explosiveness to deal with the more athletic fours in the league. Lacks the perimeter game to draw defenses out. Lacks the passing ability to kick it out of double teams. Prone to fouls. Not a great rebounder for someone his size.

Summary: Like his former Maryland teammate, Juan Dixon, Baxter seems to posses some intangibles that make him intriguing. Still, he faces an uphill battle convincing scouts that he can thrive as an undersized four. Will slip into the second round despite his talent.