Chris Jefferies
FORWARD | (6-8, 230) | FRESNO STATE | COLLEGE STATS
Season Averages
YR
GMS
MIN
PTS
REB
AST
TO
A/T
STL
BLK
PF
FG%
FT%
3P%
PPS
2002
21
34.6
17.3
6.3
3.0
2.5
1.2/1
1.2
1.2
2.8
.418
.634
.347
1.32
Season Totals
Rebounds
YR
GMS
MIN
FGM
FGA
FTM
FTA
3PM
3PA
PTS
OFF
DEF
TOT
AST
TO
STL
BLK
PF
2002
21
726
115
275
92
145
42
121
364
25
108
133
64
52
25
25
58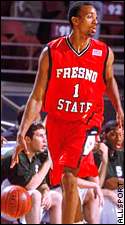 Notes: Chris Jefferies proved to be one of the top small forwards in college basketball last season before missing the final 13 games of the season with a cartilage tear in his knee. He started the first 21 games of the 2001-02 season, averaging 17.3 ppg -- second behind Melvin Ely on Fresno State. Also averaged 6.4 rebounds per game.

Jefferies led the Bulldogs with 18 points in a victory over USC in the Preseason NIT -- one of six times he led FSU in scoring before going down with his injury. Jefferies scored in double figures in 47 of 55 career games.

As a sophomore, Jefferies was a first-team All-WAC selection andalso was a member of the WAC All-Defensive team and All-Newcomer team. He played in and started all 33 games, finishing second on the squad with a 15.5 scoring average. Was selected by the media as the WAC newcomer of the year.

Jefferies returned to his hometown prior to the 1999-2000 season after one season at the University of Arkansas, where he was a starter. Sat out the season to satisfy NCAA transfer requirements. Played in all 34 games for the Razorbacks during 1998-99 season, starting 21 games. Averaged 7.7 points and 3.9 rebounds per game in his freshman campaign in the SEC, the fourth-best scoring average on the team.

Positives: Jefferies is one of the best-kept secrets in the draft. Jefferies is a small forward who could play shooting guard in the NBA. Some scouts say he reminds them of Scottie Pippen. He played at Arkansas and then transferred to Fresno State where he became one of the best defenders in the WAC. His offensive game improved with each season to where he was a 17-point scorer a game with the potential to break out for more. Jefferies can board and jump out of the gym.

Negatives: The knee injury will dog him, and Jefferies essentially quit on the program when he went elsewhere for rehab. He wasn't around the team during the latter parts of the season. Jefferies willl have to prove his knee is sound before teams look at him for the first round.

Summary: Had Jefferies played all season then he probably would be a lock for the first round. Now he's got to ensure he gets into the first round through workouts. He should go in the second at the very least and will be in the league, barring something foolish.