Predrag Savovic
GUARD | (6-6, 226) | null | COLLEGE STATS
Season Averages
YR
GMS
MIN
PTS
REB
AST
TO
A/T
STL
BLK
PF
FG%
FT%
3P%
PPS
2002
25
31.8
20.3
4.8
2.3
1.5
1.5/1
.7
.2
2.2
.438
.835
.391
1.36
Season Totals
Rebounds
YR
GMS
MIN
FGM
FGA
FTM
FTA
3PM
3PA
PTS
OFF
DEF
TOT
AST
TO
STL
BLK
PF
2002
25
795
163
372
106
127
75
192
507
26
95
121
58
38
18
4
55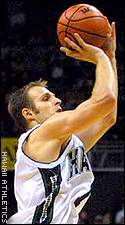 Notes: Predrag Savovic leaves Hawaii as the school's fourth-leading scorer all-time with 1,414 points in just three seasons. He is the ninth player in UH history to score 1,000 points, leaving as the program's all-time leader in 3-pointers made (178) and 3-pointers attempted (471).

Savovic helped Hawaii reach the NCAA Tournament in both 2001 and 2002. He was voted to the Associated Press All-America honorable mention team this past season and all-WAC first team. He was also the WAC tournament Most Valuable Player and two-time WAC Player of the Week.

A native of Yugoslavia, where he played for the national team from 1993-94, Savovic started his American basketball career at UAB in 1997. He played just one game for the Blazers before transferring to Hawaii. After sitting out the 1998-99 season, Savovic was named the to the WAC's All-Newcomer team and voted the MVP of both the Rainbow Classic and Hawaii Invitational.

During his junior season, Savovic was voted to the 2000-01 All-WAC first team and WAC All-Tournament team.

Positives: Savovic is one of the better shooting big men in this draft. He led Hawaii to back-to-back WAC titles and NCAA berths. He plays like a European, but he's big and can bang. He returned from a back injury that might have hampered other players who would be considered soft. Savovic is not soft, and that earned him brownie points with scouts.

Negatives: Savovic's quickness and defensive capabilities will lead some to question how high he should go in the draft. He's a talent who could emerge on a first-round list if he works out well. But he'll have to get over the defensive label that dogs him.

Summary: Savovic has got a realistic shot to crack the first round. If not, he's a lock for the second if he can't get into the first 28. But keep an eye on his progress over the next month.