Casey Jacobsen
GUARD | (6-6, 210) | STANFORD | COLLEGE STATS
Season Averages
YR
GMS
MIN
PTS
REB
AST
TO
A/T
STL
BLK
PF
FG%
FT%
3P%
PPS
2002
30
35.2
21.9
4.5
3.5
2.4
1.5/1
.6
.1
1.8
.441
.776
.372
1.42
Season Totals
Rebounds
YR
GMS
MIN
FGM
FGA
FTM
FTA
3PM
3PA
PTS
OFF
DEF
TOT
AST
TO
STL
BLK
PF
2002
30
1056
205
465
184
237
64
172
658
45
90
135
106
73
18
3
55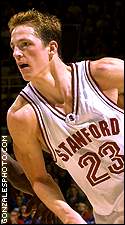 Notes: While he stayed at Stanford for just three seasons, Casey Jacobsen leaves behind quite a legacy. His name appears in the Stanford record book an amazing 55 times. His 21.9 points per game as a junior ranks No. 2 all-time at Stanford, as do his 222 career 3-pointers and 47.2-percent shooting on threes.

Both a scorer and shooter, Jacobsen is a complete player who plays as much with his head as he does with his body. An excellent perimeter player, Jacobsen is also equally adept at beating defenders off the dribble. He was a candidate for the John Wooden and Naismith player of the year awards, and was named second team All-American by AP and United States Basketball Writers Association.

Made Stanford history with 49 points against Arizona State this past season -- just a point off the school record set by Hank Luisetti in 1938. He also had 41 points in a OT win over Oregon, becoming only second Stanford player to score 40 or more points twice in a season.

Positives: Jacobsen is one of the best pure shooters in the draft. He's got NBA range and proved that throughout the past two seasons at Stanford. He can handle the ball and hit the pull-up jumper, let alone coming off a screen for a 3-pointer. He's a catch-and-shoot player, too. He's even added more of a drive part of his game. Jacobsen is also a high-character player who is willing to work.

Negatives: The knock on Jacobsen is going to be his quickness and his defense. He has the tools to work on this part of his trade, but scouts will question it as long as he wavers on staying in the draft. He can be a specialist if a team is willing to go in that direction.

Summary: If Jacobsen stays in the draft then he's on the bubble for the first round. He's a lock for the top of the second round, but that's not going to be good enough for him. He needs to be sure that he's in the first round if he stays in the draft.