Carlos Boozer
CENTER | (6-9, 258) | null | COLLEGE STATS
Season Averages
YR
GMS
MIN
PTS
REB
AST
TO
A/T
STL
BLK
PF
FG%
FT%
3P%
PPS
2002
35
28.4
18.2
8.7
1.1
1.8
1/1.7
.9
.6
3.1
.665
.754
.000
1.84
Season Totals
Rebounds
YR
GMS
MIN
FGM
FGA
FTM
FTA
3PM
3PA
PTS
OFF
DEF
TOT
AST
TO
STL
BLK
PF
2002
35
993
230
346
178
236
0
1
638
119
184
303
38
64
30
21
107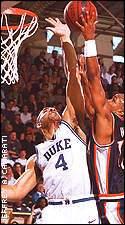 Notes: The numbers tell the story about Carlos Boozer. He ranks first all-time in field goal percentage at Duke (.631) and third all-time in the ACC. He has two of Duke's 14 perfect shooting performances in school history. Boozer grabbed at least 10 rebounds in 24 of 101 career games, and scored at least 20 in 32 games. He leaves Duke as the school's 26th all-time leading scorer with 1,506 points in three seasons.

A first team All-ACC performer in 2002, and third team All-American by AP and the NABC, Boozer helped Duke reach the Sweet 16 this season after winning the national championship in 2001. He also played for the gold-medal winning USA team at the World Championship for Young Men last summer. He led the U.S. team in scoring (15.9 ppg), rebounding (8.0 rpg) field goals (53) and shooting percentage (.663).

Positives: Boozer has the NBA body to bang in the paint. He converts an incredible amount of shot attempts around the basket, and really crashes the boards.

Negatives: Boozer is not great facing the basket, and could struggle to get shot off in traffic at next level because he has a poor arc on his jumper, and scouts question his hands. He also raised some eyebrows with his weight gain this summer.

Summary: Boozer will have to make the transition from center to power forward in the NBA. Scouts aren't sure he has the versatility to his game to make the move. He's not quick enough to handle the Garnetts and Webbers of the world and he's not strong enough to shut down guys like Elton Brand.