Chris Wilcox
FORWARD | (6-10, 220) | MARYLAND | COLLEGE STATS
Season Averages
YR
GMS
MIN
PTS
REB
AST
TO
A/T
STL
BLK
PF
FG%
FT%
3P%
PPS
2002
36
24.1
11.9
7.1
1.5
1.5
1/1
.8
1.5
2.7
.503
.585
.000
1.26
Season Totals
Rebounds
YR
GMS
MIN
FGM
FGA
FTM
FTA
3PM
3PA
PTS
OFF
DEF
TOT
AST
TO
STL
BLK
PF
2002
36
866
172
342
86
147
0
2
430
97
160
257
53
53
28
53
97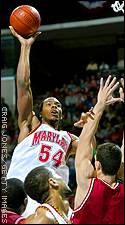 Notes: Chris Wilcox started his sophomore season as a sixth man, but the dynamic forward wound up starting the Terps final 25 games and earned third team All-ACC and honorable mention ACC All-Defensive Team honors. Wilcox finished as the Terrapins third-leading scorer with 12.0 ppg and second-leading rebounder with 7.1 rpg.

Excelled during the NCAA Tournament, as Maryland captured its first national championship. His national "coming-out party" came against Duke in February with sixth double-double of his career: 23 points, 11 rebounds. Posted his seventh career double-double with 21 points and 11 rebounds vs. Virginia in Cole Field House's final game. Started NCAA run with seven points in his first career NCAA Tournament start vs. Siena; exploded for 18 points and seven rebounds against Wisconsin in the NCAA Tournaments second round. Scored 15 points against Kentucky, which included a 7-for-8 effort at the free throw line, in the Sweet 16; netted 13 points in the Elite Eight vs. UConn before putting in a tremendous 18-point, nine-rebound, four-block performance against Kansas in national semifinal. Scored 10 points and collected seven rebounds in national championship game win over Indiana.

Positives: Wilcox keeps getting better as an offensive player. He made tremendous strides in his sophomore season. He became much more of a true scorer in the post, instead of a garbage guy getting putbacks. He actually had moves that he could finish. He can flush with the best of them, especially on the break and is as athletic a big man as there is in the draft.

Negatives: Wilcox is still learning the game and hasn't even tapped his potential. Another season would have allowed him to become more polished before he gets to the league. He wont be 20 until the fall and maturity could become a factor for teams when they draft him.

Summary: Wilcox is too good to pass up in the top 10. He has a chance to go as high as No. 3 but more likely somewhere from four to 7. His skills are too tantalizing for teams.