Marcus Taylor
GUARD | (6-3, 195) | null | COLLEGE STATS
Season Averages
YR
GMS
MIN
PTS
REB
AST
TO
A/T
STL
BLK
PF
FG%
FT%
3P%
PPS
2002
29
34.4
16.8
2.9
5.3
3.1
1.7/1
1.1
.1
1.8
.400
.813
.361
1.19
Season Totals
Rebounds
YR
GMS
MIN
FGM
FGA
FTM
FTA
3PM
3PA
PTS
OFF
DEF
TOT
AST
TO
STL
BLK
PF
2002
29
997
164
410
100
123
60
166
488
12
71
83
153
91
31
3
52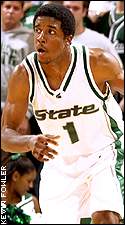 Notes: Marcus Taylor emerged as a leader in his sophomore season, both on and off the floor at Michigan State. He became not only just the second Big Ten player to lead the conference in scoring and assists, but also spearheaded MSU's late run to the NCAA Tournament by scoring in double figures in Spartans' final 25 games.

A true point guard, Taylor combines excellent ball-handling skills with a deadly jump shot. Scored a career-high 34 points against Iowa last season -- a game that also saw him hand out nine assists. Named to the Big Ten's first team as a sophomore.

Taylor played for the 2001 USA Young Men's World Championships team after freshman season at MSU. He was an McDonald's All-American out of Waverly High School, where he was named Michigan's Mr. Basketball in 2000.

Positives: Taylor is a shooting guard in a point-guard's frame. He has played both positions and can make the adjustment to being a scoring point in the NBA. His decision-making improved but it could still get a lot better. He's one of the better shooting points in this draft.

Negatives: Taylor is not ready to make the leap and contribute. Taylor would certainly benefit from another year under Tom Izzo. Consistency hasn't been a trademark of his college career. He's not a lock for the first round and that should be enough of a wakeup call.

Summary: Taylor hasn't ruled out returning to Michigan State although the staff doesn't expect him back in East Lansing. He's a borderline first-round pick.