Caron Butler
FORWARD | (6-7, 228) | UCONN | COLLEGE STATS
Season Averages
YR
GMS
MIN
PTS
REB
AST
TO
A/T
STL
BLK
PF
FG%
FT%
3P%
PPS
2002
34
36.0
20.3
7.5
3.0
2.9
1/1
2.1
.4
2.2
.485
.779
.400
1.32
Season Totals
Rebounds
YR
GMS
MIN
FGM
FGA
FTM
FTA
3PM
3PA
PTS
OFF
DEF
TOT
AST
TO
STL
BLK
PF
2002
34
1223
253
522
155
199
30
75
691
108
148
256
101
98
71
13
75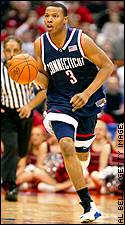 Notes: After just two seasons at Connecticut, Caron Butler hopes to join the school's impressive list of underclassmen who've gone on to successful NBA careers. But at 22 and already a father of two, Butler's reasons for leaving are different than Ray Allen, Richard Hamilton, Khalid El-Amin or Donyell Marshall.

Yes, he's talented enough to play in the NBA. He's also a likely lottery pick. But he's also a mature young man who's older than some college seniors in this year's draft.

After a troubled youth in Racine, Wis., which included several arrests and a stint in jail, Butler got his life in order at Maine Central Institute, where he left as the nation's top prep school player in 2000. He now leaves UConn as the school's 33rd player to score at least 1,000 points (1,136 in just 63 games). He scored double figures in the final 49 games of his UConn career.

Butler was named to the 10-member John Wooden All-american team this past season and was also named first-team all-American by Basketball News. He was an AP honorable mention all-American. Butler also played for Team USA at the World Championship for Young Men Tournament last summer, starting all eight games for the unbeaten U.S. squad, and averaging 10.6 points and 4.3 rebounds a game.

Positives: Butler has matured into his body and became a true small forward this past season -- ready for the rigors of the NBA game. He loves to work the offensive glass and doesn't hesitate to take contact. He can finish while also taking his game outside to the perimeter. Butler became a leader for Connecticut in just his second season, elevating his game to lead the Huskies to the Elite Eight. All of that helps his cause.

Negatives: Butler has done all the above for one season, but didn't stick around to prove he could back it up for two. That's about it. Certainly he can continue to work on his ball skills and 3-point shot but the NBA knows what they're getting with Butler.

Summary: Butler is ready for the league and has few flaws. He won't get out of the top 10 and could play himself into a top five pick.