Frank Williams
GUARD | (6-3, 205) | ILLINOIS | COLLEGE STATS
Season Averages
YR
GMS
MIN
PTS
REB
AST
TO
A/T
STL
BLK
PF
FG%
FT%
3P%
PPS
2002
35
32.5
16.2
4.7
4.4
2.7
1.6/1
2
.3
2.1
.393
.808
.340
1.28
Season Totals
Rebounds
YR
GMS
MIN
FGM
FGA
FTM
FTA
3PM
3PA
PTS
OFF
DEF
TOT
AST
TO
STL
BLK
PF
2002
35
1136
174
443
164
203
54
159
566
32
131
163
153
96
71
10
73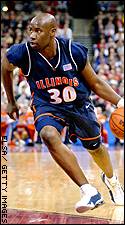 Notes: The 2001 Big Ten player of the year was a 2002 first-team All-Big Ten selection. But his junior season didn't live up to expectations.

The preseason first-team All-America choice and Big Ten Preseason Player of the Year by media and coaches announced last summer he'd leave Illinois early. And he left the Illini as an honorable mention All-America selection by the Associated Press after being one of 20 finalists for the Wooden Award and Naismith Award. Williams did finish fifth in the Big Ten in scoring with an average of 16.2 points per game and was second in Big Ten steals with 2.03 per contest . He ranked fifth in Big Ten assists (4.37 apg).

In the 2002 NCAA Tournament, Williams scored 25 points, including career-high five 3-pointers, and had eight assists in a first-round win over San Diego State. He then erupted for 20 second-half points in second-round win over Creighton. Scored 15 points, grabbed five rebounds and handed out four assists vs. Kansas in the Illini's Sweet 16 loss. Averaged 20 points, 4.3 rebounds and 5.7 assists in NCAA Tournament play, shooting 51 percent from the field (22-of-43) and 60 percent from 3-point range (12-of-20).

Williams was Illinois leading scoring in 17 games last season and had 12 games of 20-plus points. Tied his career high with 30 points Dec. 4 vs. Arizona. Scored 25 against Arkansas on Dec. 8, shooting a school-record 24 free throws and making a career-high 18 free throws.

During his sophomore season, Williams was the Big Ten Player of the Year by both the league coaches and media voters. He also was chosen for the Wooden All-America Team and was a third-team All-America selection by the Associated Press. Williams was also one of 10 finalists for the AP National Player of the Year (finished 7th).

Williams was named Mr. Basketball for the state of Illinois in 1998 after averaging 24 points, eight rebounds and six assists per game at Peoria's Manual High School. A McDonalds All-American, Williams helped lead Peoria to the 1995, 1996 and 1997 state champion teams.

Positives: Incredibly talented, Williams was one of the most difficult players in the country to guard one-on-one. A top-notch defender who earned a great rep in the NCAA Tournament last year as the next "Glove." A gifted ballhandler with a nose for the spectacular. Williams is incredibly strong, and has great size for an NBA point guard.

Negatives: When he's good, he's very good. And when he's bad ... Ugh! Williams makes a lot of questionable decisions on the court. He struggled with his outside shooting throughout the 2001-02 season. Uses his strength to overpower his opponent. Can he do that at the next level? His jumper has been extremely inconsistent. Hasn't always shown the leadership skills necessary to be a floor leader in the NBA.

Summary: Williams was a lock for the lottery last season, but has slipped into the mid-to-late first round in the eyes of most scouts . Now everyone questions whether he has the outside game and quickness to compete with the Allen Iversons of the world.