Jamal Sampson
FORWARD | (6-11, 235) | null | COLLEGE STATS
Season Averages
YR
GMS
MIN
PTS
REB
AST
TO
A/T
STL
BLK
PF
FG%
FT%
3P%
PPS
2002
32
24.9
6.4
6.5
1.2
1.7
1/1.4
.5
1.7
2.7
.426
.526
.000
1.13
Season Totals
Rebounds
YR
GMS
MIN
FGM
FGA
FTM
FTA
3PM
3PA
PTS
OFF
DEF
TOT
AST
TO
STL
BLK
PF
2002
32
797
78
183
50
95
0
0
206
79
130
209
38
53
15
54
85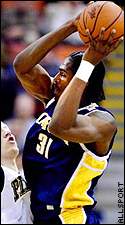 Notes: Jamal Sampson played one season at Cal before declaring himself eligible for the NBA Draft. Sampson earned Pac-10 All-Freshman honors and paced the Bears with 54 blocked shots, the third-highest total in school history. He started 31 of 32 games, averaging 6.4 points and 6.5 rebounds.

Sampson was named the Most Valuable Player of the BCA Classic Nov. 15-16 after scoring 10 points and grabbing 14 rebounds in the championship game vs. Eastern Washington. He hauled in at least 10 rebounds eight times and had four double-doubles.

Prior to arriving at Cal, Sampson earned third team Parade All-America honors as a senior at Mater Dei High School and led his team to the 2001 California state championship, a 33-2 record and a No. 4 national ranking. He averaged 15.5 ppg, 10 rpg and 2.4 bpg as a senior. He is the cousin of former Virginia and NBA star Ralph Sampson.

Positives: Sampson is big and he can block shots. He can run the floor and score close to the basket. He doesn't have the game to push out further from the hoop. But Sampson was able to be a significant contributor for Cal in his only season with the Bears.

Negatives: Sampson lost his chance to go back to school when he signed with an agent. He's still developing his offensive skills and he's far from being a finished product in the post. Whomever takes him will have to spend plenty of time working on Sampson's game, rather than putting him into the lineup and expecting results.

Summary: Sampson could have been a first-round pick had he stayed in school a few more years. Instead, hes likely going in the second round or could go undrafted. His size will be hard to turn away from, but he probably cost himself money by leaving school after one season.